"The Whale" Rides Waves of Raw Emotion on Opening Night
Hang on for a minute...we're trying to find some more stories you might like.
Fresno City College Theatre's opening night performance of Samuel D. Hunter's moving drama, "The Whale" drew a unanimous standing ovation on March 2, 2018.
Told through a one-act structure, "The Whale" tells the heartbreaking story of Charlie, a morbidly obese gay man who is nearing the end of his life as he attempts to reconnect with his estranged daughter, Ellie.
This production of "The Whale" is directed by Chuck Erven and features a group of five characters that include the protagonist Charlie, his daughter Ellie, his best friend Liz, his ex-wife Mary and a Mormon missionary named Elder Thomas.
The play is set exclusively in Charlie's pigsty of an apartment over the course of a week in his miserable life.
Through Erven's remarkable direction, "The Whale" leaves the audience feeling as if they are eavesdropping on Charlie's life.
Despite the heavy subject matter of the play, Hunter's remarkable script showcases the humanity within all five of these troubled characters, particularly with its central protagonist.
In the play, Charlie is still grieving the death of his boyfriend as he continues his job as an online expository writing professor. For roughly 95 percent of the show's runtime, the protagonist is present onstage.
Fresno State theatre instructor Brad Myers is front-and-center as Charlie. Through the use of a fat-suit that helps give such a physical onstage presence, Myers turns in a mesmerizing performance that feels achingly real.
Myers describes his character as a man grappling with the dissatisfaction of his own life.
"It is the sense being at a point in life that you can never get back what has been lost," said Myers. "That element manifests itself in so many different ways."
At the heart of the play is the relationship between Charlie and his daughter Ellie. Cat Evangelho plays the cynical and troublesome Ellie with such biting charisma that particularly shines when she shares the stage with her estranged father.
Rounding out the cast is Aleah Muniz as Charlie's best friend Liz, Claudio Laso as the optimistic Mormon missionary Elder Thomas and Bridget Manders Martin as Charlie's ex-wife Mary.
Muniz plays Liz as the concerned and loving friend to Charlie and treats him the same way a concerned sister would look after her ailing brother. Muniz and Myers share a certain warmth onstage that is certainly welcome given how the show confronts the topic of mortality.
As for Laso's portrayal as Elder Thomas, his character goes through a fascinating journey of his own when he develops a connection with Charlie. Laso plays in some of the play's most serious aspects along with some of the biggest laughs.
And in perhaps one of the play's most gut-wrenching scenes, we have Charlie having an emotional connection with his ex-wife Mary as they catch-up after years apart. Martin portrays Mary as a relentlessly exhausted single mother who has lost hope in her daughter's future and feels profoundly devastated in a conversation with Charlie.
Regarding their opening night performance, Erven and the cast were pleased.
"The audience seemed to be responsive and tuned in," said Erven. "I thought the cast did a great job."
The cast agreed that the presence of an audience encourages stronger energy within their performances. Laso, in particular, felt pleased given that this was his first mainstage show.
"I was very nervous, so I didn't know what to expect," said Laso. "My co-stars were amazing tonight and gave performances 10 times better than in previous rehearsals.
"It always feels good to have a good energy," said Muniz. "We ran pretty smoothly and exhibited good chemistry onstage."
"My co-stars were holding me up and I was holding them up," said Evangelho. "We were all very prepared together and we couldn't have done it without each other."
"The Whale" continues on March 8, 9 and 10 at 7:30 p.m. and March 9 and 10 at 2:30 p.m. in the FCC theatre. Tickets are $14 for general admission, $12 for students and seniors and $8 for a group rate.
About the Contributor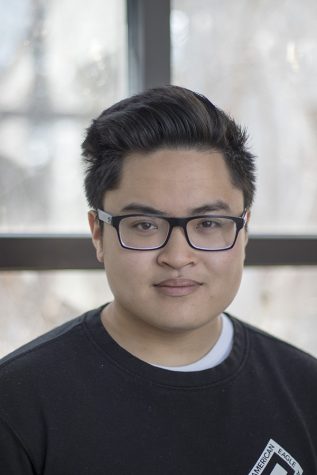 Noah Villaverde, Entertainment Editor
Noah Villaverde is a 21-year-old who currently resides in Fresno, California and is a Mass Communications and Journalism major at Fresno City College....