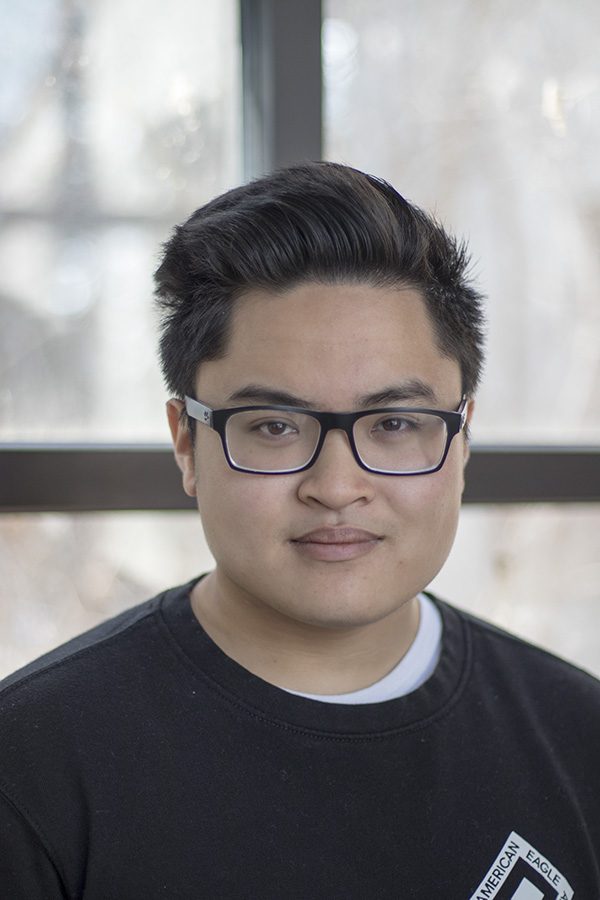 Noah Villaverde is a 21-year-old who currently resides in Fresno, California and is a Mass Communications and Journalism major at Fresno City College. He was born and raised in Fresno and is now serving his third semester with the Rampage and his first as the Arts & Entertainment Editor.
Noah's passions are intertwined within the popular culture. Ever since his adolescent years, he has developed an interest in cinema, television and music. His interests in cinema were first sparked after he watched "The Dark Knight" in 2008 after recovering from a fire that affected his family's home. What started out as a nice distraction for Noah turned into a passion that has followed him to this day.
Before he gained an interest in writing, Noah had a short-lived tenure on YouTube as a movie reviewer a la "At the Movies with Ebert and Roeper." The monopolized nature of YouTube eventually drove Noah away from that spotlight and soon allowed him to focus more on written reviews and quick blogs regarding film, television and comic books. Noah's blog writing eventually landed him a position as a staff writer at the comic book film/television blog Heroic Hollywood.
Besides reporting on popular culture, Noah also enjoys working behind the camera to craft news stories through video as well as editing them together. When not reporting or doing his schoolwork, he enjoys spending time with his family and friends, watching movies on both the big and small screens, playing the saxophone and volunteering as a church youth leader.
Follow Noah on Twitter @noahgreenark_V
Noah Villaverde, Entertainment Editor
May 10, 2018

Mike Dana & Larry Honda Celebrated At Final Jazz Concert

(Story)

May 01, 2018

Retiring Music Legends Reflect on Their Careers

(Story)

Apr 26, 2018

'Avengers: Infinity War' Is Marvel's 10 Year Promise Kept

(Story)

Apr 18, 2018

FCC Hosts Safety Panel for Gun Violence Prevention

(Story/Media)

Apr 17, 2018

Central Valley Guitar Summit Gets Students Strumming

(Story/Media)

Mar 30, 2018

"Ready Player One" Brings Back Spielbergian Magic

(Story)

Mar 13, 2018

'Law & Order True Crime' Star Miles Gaston Villanueva Inspires FCC Students

(Story/Media)

Mar 13, 2018

Fresno City College Hosts Second Annual High School Journalism Day

(Story/Media)

Mar 07, 2018

"The Whale" Rides Waves of Raw Emotion on Opening Night

(Story/Media)

Mar 06, 2018

Common Sense Gun Laws Are Enough

(Story)

Feb 06, 2018

Onion Founder Humors Crowd At Fresno City College

(Story)

Feb 06, 2018

Johnny Cash Tribute Band Ram Pantry Benefit Concert Is A Smash

(Story)

Jan 23, 2018

Mike Dana to Be Inducted into Jazz Hall of Fame, Will Retire in May

(Story/Media)

Jan 23, 2018

Erven and Cast Excited about 'The Whale's' Real Life Issues

(Story/Media)

Nov 21, 2017

Women's Soccer Wins First Playoff Game

(Story)

Nov 17, 2017

Tensions High as Rams and Giants Meet Again After Last Season Brawl

(Story/Media)

Nov 08, 2017

'Stranger Things 2' Recaptures Magic

(Story)

Nov 08, 2017

Men's Soccer Swiftly Defeats College Of Sequoias

(Story)

Oct 25, 2017

The Final Films of 2017

(Story)

Oct 25, 2017

Women's Water Polo Falls Short of Goal

(Story/Media)

Oct 21, 2017

Tzu Chi Mobile Clinic Offering Free Services

(Story)

Oct 11, 2017

Goo Goo Dolls Put Authenticity Back in Rock

(Media)

Oct 11, 2017

Community Symphony Orchestra Evokes French Romantic Theatre

(Story/Media)

Oct 10, 2017

Lost in the Sauce: Problems with Obsessive Fandom

(Story)

Sep 26, 2017

If You're Wanting Traditional Horror, 'Mother!' May Not Be For You

(Story)

Sep 20, 2017

FCC Women's Soccer Continues With Undefeated Streak

(Story)

Sep 12, 2017

FCC Police and Fire Cadets March In Remembrance of 9/11

(Story)

Sep 07, 2017

Protesters Gather at Federal Courthouse After DACA Repeal: 'This Does Not End Here'

(Story)

Aug 29, 2017

FCC Library Undergoing Changes

(Story)

Aug 25, 2017

'The Defenders': Avengers of the Streets

(Story)

Aug 17, 2017

Interested in Theater? Here's How to Audition for 'Silent Sky' and 'American Idiot'

(Story)

Apr 05, 2017

Student Recital Strikes All the Right Notes

(Story/Media)

Apr 05, 2017

Are Disney Remakes Worth While? Pro

(Story)

Mar 22, 2017

Entrepreneurship Club Uses Social Media to Hype Disrupt

(Story)

Mar 07, 2017

Are Protests Truly Effective?

(Story)

Mar 07, 2017

Do Awards Shows Matter? Pro

(Story)

Feb 19, 2017

'Fist Fight' sets Ice Cube up to Fall Flat

(Story)

Feb 07, 2017

Zach Savage: New Student, New Talent

(Story)

Jan 24, 2017

Health Fee Grants Access to Array of Services

(Story)

Jan 20, 2017

Students Rally Against President Trump on Inauguration Day

(Story)