Rams in Distress Over Parking
Some college students would tell you that stress is caused by the workload they endure each semester. But students at Fresno City College may cite their familiar frustrations with finding a space to park their car.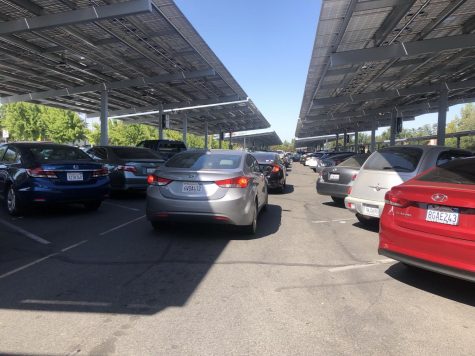 FCC has over 20,000 students each year that look to park in one of about 3,000 parking stalls on the campus. The scarce parking spaces incites frustration among the students.
"Finding parking at school is the worst part of the day. It's that plain and simple," said Diana Gallardo, a sophomore majoring in political science. "It usually takes about an hour to almost two hours to find parking." 
New students have found the parking situation "surprisingly overwhelming." Stephania Velazquez, a sophomore had spent her first year at Reedley College and was therefore unfamiliar with FCC's parking frustrations. 
"Going to Reedley, I would get there 30 minutes to an hour early, but going here, I sometimes hear students saying to get here around two hours early," Velazquez said, adding that she has resorted to parking in nearby neighbourhoods a couple times already.
"Off campus parking is something that's just better at the beginning, because everyone is in the parking lot trying to find a spot," Gallardo said.
"This early in the semester, finding a good spot is not easy, but usually as the semester goes by, I would have to say the back of the parking lot [offers good spots]," she said. "No one really likes to park in the back, meaning more available spaces."
Megan Aleman, a second semester student, recommends carpooling. "It helps relieve some of the traffic on campus," she said. "You will save gas money, and it's great for the environment." 
Aleman said that past three years have provided her with lots of tips on parking which she shares with new and current Rams. "Parking lot X is a little FCC gem," she said. "It's a mission to get to campus, but you will definitely find easy parking there." 
Aleman encourages other students to keep their cool and work together to get parking and make it to class. She said, "When all else fails, find someone walking towards the parking lot and ask them if you can either follow them to their parked car or offer them a ride."
Students need more parking options if they're expected to make it to class, and it looks like help is on the way.
Recently, the college has made strides to alleviate the difficulties in finding parking. In April, the State Center Community College District's board of trustees approved a plan to build a parking structure that would create 1,000 more parking spaces on campus.
"We're really pleased that the board of trustees approved that design build process," said Carole Goldsmith, FCC president. "We'll go to the board on or before December with those plans to move forward."
The $15 million structure will take the place of lots P and T, but construction will not start until 2021. 
Until then, FCC students must find creative ways to find parking to make it to class on time.