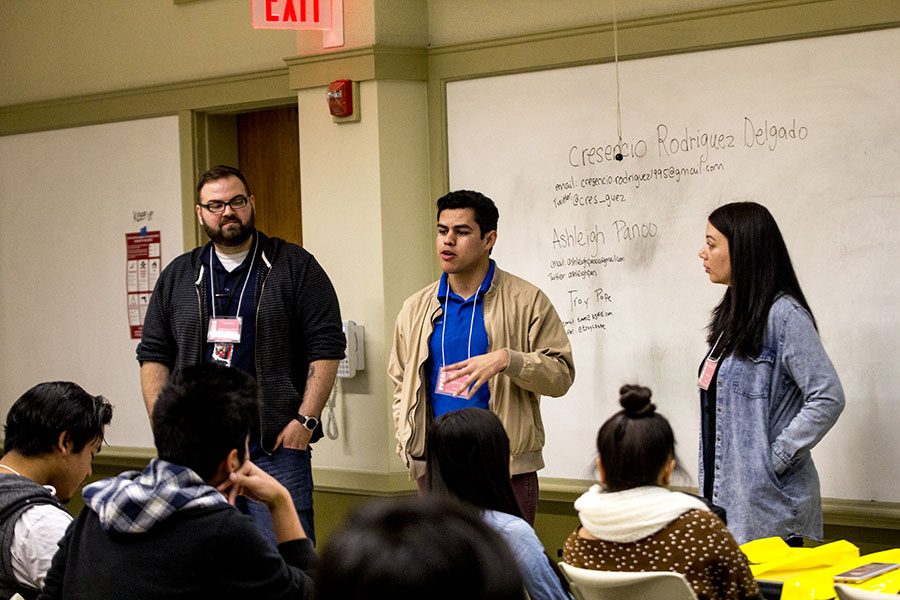 Photo by: Noah Villaverde
Fresno City College Hosts Second Annual High School Journalism Day
March 13, 2018
Local media professionals and hundreds of students from numerous high schools attended Fresno City College's second annual High School Journalism Day on March 9.
Journalism Day involved the participation of FCC faculty, student volunteers and local media professionals who held numerous workshops for high school students interested in the career field.
The day-long conference opened with an introduction by Graciela Moreno of ABC30, Rampage adviser Dympna Ugwu-Oju and FCC's Dean of Instruction for the Fine, Performing and Communication Arts Division, Neil Vanderpool.
The introduction was followed by a panel discussion which was moderated by Kathleen Schock and featured media professionals Joe Wirt of the California News Publishers Association (CNPA), Michael Carr of ABC 30, Gordon Webster of the Business Journal, Lisa Boyles of Fresno State and Mike Oz of Yahoo Sports.
The introduction was followed by a panel discussion that was moderated by Kathleen Schock and featured media professionals Joe Wirt, Michael Carr, Gordon Webster, Lisa Boyles, Mike Oz.
Following the opening panel discussion, hundreds of high school students attended their respective workshops that featured Central Valley media professionals from the likes of the Fresno Bee, the Business Journal, ABC 30, Community Media Center for Fresno and Clovis (CMAC), KMJ Radio, Fresno State, and others.
Rampage staff also hosted a tour of the official newsroom for students.
Through these numerous workshops, high school students explored the many different careers that are included within media, including print, web, television, etc.
Kyle Lowe, producer at CMAC, said Journalism Day was a great opportunity for media professionals in the Central Valley to get students more interested in the many careers available.
"I think there's a lot of insight to be gained from these media professionals and with their mere presence, they get to engage deeply with the students," said Lowe. "Knowing the names that got to talk today, I know that the students received some good information."
Robert Styles, who teaches advanced media broadcasting at Monache High School in Porterville, believes that the event will inspire his students with their class work.
"I want this event to ignite a fire within my students," Styles said. "That way, they get passionate about the class next year and aim to be more professional with their news broadcasting."
Johnny Cortez, a student from Sunnyside High School in Fresno, found himself and his fellow classmates excited by the workshops they attended.
"I personally enjoyed The Rampage tour of their newsroom," Cortez said. "Because of student-run journalism, those involved know what to do to reach out to students."
In regards to the event as a whole, the numerous presenters and visiting high school teachers said they aimed to inspire the students to pursue journalism given the new resources that are easily available.
"My students make videos and through my class they get to report on issues that matter to them," Styles said. "It is a great time to pursue journalism right now."