Open Forum: Vaccine Mandate Documentation Deadline, Noncompliance, Plans for Spring 2022
Fresno City College President Carole Goldsmith and administration discussed the State Center Community College District vaccination mandate, how to upload documentation and more during an open forum via Zoom on Nov. 10.
During the forum, Lataria Hall, FCC vice president of student services, reminded students they must upload their vaccination status or apply for an exemption no later than Nov. 10. 
Students can upload a copy of their vaccination card to the COVID Vaccine Mandate Site here. 
Instructions on how to obtain, complete and submit a medical exemption form can be found here. 
Students can find the COVID-19 Vaccination Religious Exemption Form in their student portal that pertains to their primary campus:
According to Sean Henderson, FCC dean of student services, if students are denied a religious exemption, they can appeal the decision by providing more information. 
For Those Who Do Not Comply With Mandate 
Beginning Nov. 15, non-students, employees, visitors and contractors who are not fully vaccinated will not be allowed in district buildings. 
Students who are not vaccinated and do not have an exemption will only be allowed to participate in courses online until the mandate is lifted, according to Henderson. 
In an email to students on Nov. 9, the SCCCD announced that the mandate will remain in place for the spring 2022 semester.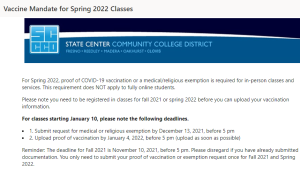 Goldsmith said she hopes there will not be any legal challenges to the mandate but that it is, "quite possible."
She added that the SCCCD Board of Trustees worked with legal counsel, FCC is doing everything it can to provide exemptions and faculty will be working with students who are not compliant but need to finish their classes. 
Plans for Spring 2022
According to Goldsmith, FCC is planning to have 50 to 65% of courses in-person and 40 to 45% online for the spring 2022 semester. 
For classes starting Jan. 10 2022, students must submit a request for medical or religious exemption by Dec. 13 before 5 p.m. or upload proof of vaccination by Jan. 4, 2022 before 5 p.m.
Hall reminded students that the vaccine mandate was put in place so that the district can ensure the safety of everyone and that faculty is there to answer any questions students might have.  
"Our goal is to make sure that we get you enrolled into classes," she said. "And that you're able to continue your education and have the most positive learning experience possible."