Fresno City College Returns In-Person, Safety Guidelines in Place
After more than a year of being closed due to COVID-19, 35% of Fresno City College's staff and students returned for in-person or hybrid classes on Aug. 9, 2021. 
The fall semester has also seen the reopening of in-person services such as financial aid, admissions and records, library, business office, counseling, and more.
According to Vice President of Instruction, Don Lopez, about 240 class sections are open for in-person learning.
The fine arts and communication arts division is open for in-person enrollment. 
Science and engineering are only offering biology and chemistry labs in-person and math is still online unless specialized. 
On grounds labs are a requirement for FCC students transferring to institutions like Fresno State University or going into the medical field, according to Lopez. 
Humanities such as English, foreign language and philosophy are currently not offering in-person classes but might later in the semester. 
The business division currently has no classes in-person. 
"We're trying on a case-by-case basis to be very careful about what we're offering and where we're offering it," Lopez said. "You have to be careful that you're offering it in the right way, so it doesn't mess up students who are trying to graduate and go to different institutions."        
Depending on the time of day, between 2,400 and 4,000 students and staff are on campus, with 10 – 2 p.m. having the most students and an average of 2,400 students from 7 – 10 a.m, according to Lopez.
Though the large number of people on campus may raise concerns related to the general spread of the COVID, Lopez said FCC is taking students and staff's safety into consideration in multiple ways.
For example, he said class scheduling is set to minimize how many students are in a room or building, along with different levels of cleaning being done depending on how often a space is used.
In addition, there is a COVID-19 testing site on campus in the Staff Dining Room and a UCSF Fresno mobile vaccination unit comes to campus on select dates for students who want to get vaccinated.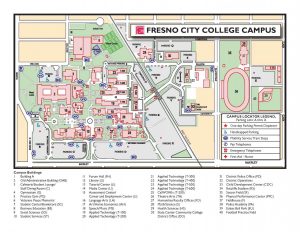 According to the "What's New for FCC's Fall Semester" news release, more hand sanitizing stations will be available on campus and social distancing is required when eating or drinking in the cafeteria.
FCC will also continue to follow current COVID-19 guidelines as directed by State Center Community College District and the Fresno County Department of Public Health. 
Students and staff are required to wear a mask on campus, including indoors, regardless of vaccination status.
Non-compliant students will be sent to Sean Henderson, Dean of Students. 
Non-compliant faculty will be asked to see the dean of their division.
If a faculty member or student has a medical exemption, they will not be asked to wear a mask inside but COVID-19 testing may be required for the safety of others on campus, according to Lopez.
Though FCC does not require vaccinations at the moment, Lopez only had one message for those on campus.
"Get vaccinated, it's on campus and it's free," he said.
Prior to the return of the fall 2021 semester, emails were sent out to students regarding the guidelines of being on campus. 
Students were asked to agree to the COVID-19 Student Safety Agreement which asks them to conduct a self-screening health assessment before coming to campus each day, wearing facial coverings, social distance and more. 
Despite safety guidelines, FCC student Leila Howard, who has four children under the age of 12, one whom is immunocompromised, decided to drop her in-person chemistry class and put her nursing degree on hold for the safety of her children.
"It's just getting too bad again. I can't put my children at risk and I won't," she said.
Howard added that Zoom is more convenient for her. However, she said Webadvisor shows that FCC only offers chemistry 3A in-person or hybrid, meaning some online and some in-person. 
"It's such an exciting experience being able to interact face to face after all this time in a pandemic. Unfortunately, I'll have to miss out this semester," she said.
If campus remains open for the spring 2022 semester, Howard said she plans to return for her chemistry class and the campus experience.