Performing Arts Classes Ditch Zoom, Now Back In-Person
Fresno City College performing arts students are no longer performing on the screens of Zoom, but are now returning to classes and stages in-person. 
The FCC concert band has been one of many to make the change.
Last year's music students had their classes on Zoom which Sydney Cook, a flutist for FCC concert band, felt limited how much music they could play.
Cook remembers it as a time that was lonely, repetitive, and boring, which is unfortunate as it was her first year in the FCC band.
However, this semester Cook is already noticing a difference with the class being back in person.
"It honestly just feels amazing, just to play music with other people because honestly, music is not something that you do alone," she said.
Elisha Wells, concert band director and professor of brass ensemble and convocation for instrumental music majors, is excited to be teaching on campus again. 
"I've missed my students more than I can express. Connecting with them in-person, even though I'm teaching outside in the hundred-degree temperatures and we're all wearing masks, is so much better than Zoom!" she said.
During this semester, Wells has moved her in-person classes outside and is having students socially distant at rehearsals. 
When the students are not playing their instruments they are required to wear their masks and sanitize frequently.
Another addition to help keep students safe is having personal protective equipment for instruments and bell covers. 
Bell covers' purpose is to cover the bell part of the instrument in order to keep germs from spreading.
The band has already ordered the bell covers and once they receive them, the band will move their rehearsals indoors.
Bell covers and personal protective equipment were paid for by FCC. 
The concert band and Wells are grateful for the support of Vice President of Administration, Omar Gutierrez and Cyndie Luna, faculty member in the Fine, Performing and Communication Arts Division.
Though the semester just began, the band and its directors are already preparing for their first performance. 
The concert band's first live performance will be on Oct. 8 on the lawn outside of FCC's Old Administration Building, next to Maroa avenue.
The event will be hosted by the FCC's FPCA Division with the theme of Broadway.
FCC concert band has hopes of picking musical pieces that incorporate Broadway with a mix of Hollywood.
Ticket sales have yet to be released. 
While there is excitement being on campus, Wells does have concerns with her class regarding the coronavirus.
Although Wells has been vaccinated herself, she is still cautious in her classes, especially for the potential students who are not vaccinated.
As for enrollment, concert band has seen a drop for in-person classes and Wells urges anyone who has interest in joining to contact her at [email protected]. 
FCC's theater program has also seen changes in enrollment this semester.
Designer and technical theatre professor, Christina Mccollam-Martinez, has seen an increase in enrollment since starting in-person classes for fall 2021. 
However, the theatre department is only seeing classes about half the size of what they usually were before COVID, according to the numbers given by Mccollam-Martinez. 
Mccollam-Martinez's Introduction to Lighting Design course went from having five students enrolled on the Friday before classes started to 11 students enrolled total. 
While her Theatre Practicum class had 18 students enrolled before the start of the semester. 
"It's still kind of low compared to before COVID, but in a way it's good because you don't want to have too many people in the classroom since our classroom is small," she said. 
Transitioning to remote learning during 2020 was not a problem for Mccollam-Martinez. 
The real challenge was helping students with hands-on learning classes that required students to complete about 54 hours on a production.
Mccollam-Martinez said it was hard teaching lighting design if students can't see the space, see what controls the lights and don't know how to set it up.
However, she is glad to be back in a space where she is able to show them the right way rather than having to show them through a video. 
FCC's lighting design class is the only community college class where students get to design and implement their design in live production, according to Mccollam-Martinez. 
Despite the small number of students enrolled, safety precautions are still being followed. 
Spraying down props, wiping down tables with disinfectant, and having students wear masks the moment they enter the building are safety protocols being used in class to keep students safe. 
Mccollam-Martinez has not encountered any students who are hesitant to be back on campus because of COVID. 
She said most students are eager to be back face to face.
For those who are hesitant, she said, "There's always a way to make things work. If a student is afraid to come, then we'll work with them until they're not afraid." 
At the moment, no production is being done by theatre students. 
However, if the pandemic settles down later in the semester, a live holiday fair outdoor performance in collaboration with the art department will be taking place at FCC, according to Mccollam-Martinez. 
There will also be a 30-minute radio play adaptation of Charles Dickens' "A Christmas Carol" live radio show production in partnership with local radio. 
Video auditions and audition forms can be submitted by the deadline of Aug. 27. More information can be found here.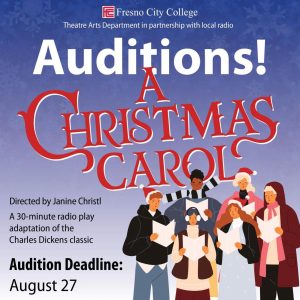 "Gifts of my Friends" is another production that will occur towards the end of the semester, involving FCC director Chuck Erven and one to two other actors, according to Mccollam-Martinez. 
More information on these productions will be released later in the semester.