UCSF Fresno Brings Vaccines to Fresno City College's Campus
UCSF Fresno has returned to the Fresno City College campus to administer COVID-19 vaccines for a limited time. 
On Aug. 9, FCC announced that UCSF Fresno will have a vaccination booth set up on Tuesdays and Wednesdays from 10 a.m. to 12 p.m. for two weeks. 
According to Andrew Field, UCSF Fresno COVID-19 Program Manager, the medical school is working closely with FCC administration to design a schedule that suits the needs of faculty, staff and students. He expects to be on-campus several more times this semester. 
UCSF Fresno created the COVID-19 Equity Project in response to the pandemic and recognizes that underserved communities are hit hard by the lack of medical services available to them. 
"FCC has a history of supporting underrepresented students, so it's a natural marriage," he said. "We hope our presence on-campus will allow equal access for those who may have found it difficult to find services elsewhere." 
By eliminating barriers such as insurance, copays, and appointments, Field hopes that many FCC students will choose to be vaccinated, if they haven't already. 
Sharron Roland, Drug & Alcohol Counseling and African American Studies major, received her vaccine at the UCSF booth on Tuesday Aug. 10. 
Roland said she had seen UCSF Fresno hosting their vaccination drive-thru a few weeks ago but did not get vaccinated then due to skepticism of the vaccines' side effects and how fast the vaccines were created. 
What ultimately drove her to get vaccinated was FCC's announcement about the bookstore giving away $250 vouchers to students who present their current Associated Student Government card and vaccination card. 
Aside from being a fan of the $250 voucher, Roland said having UCSF Fresno on campus is just a great idea. 
"It's better safe than sorry. Whatever FCC needs to do," she said. "This place has a whole lot of people who come here. So whatever they have to do to ensure safety because it is safety first." 
Roland said it is important to have a vaccine booth available because it is convenient and helps those like herself feel at ease because, "If they have it on campus, it has to be safe." 
For the past few months, UCSF Fresno held a vaccination drive-thru in one of FCC's parking lots. 
However, due to the resumption of classes and need for parking lot usage, the drive-thru is no longer active. 
This upcoming week, UCSF Fresno will be at FCC on Tuesday Aug. 17 & Wednesday Aug. 18 from 10 a.m. to 12 p.m. near the campus' main fountain.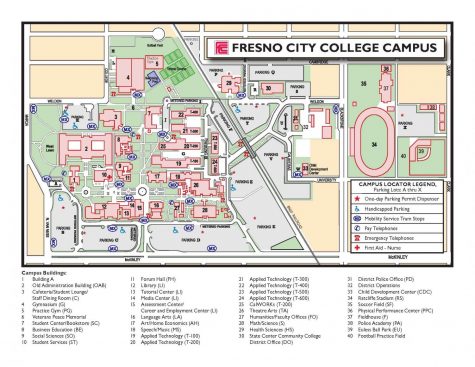 Students may choose between the Johnson & Johnson and Pfizer vaccines. Appointments are not required.