FCC Initially Announces Virtual Commencement Ceremony, is now Looking to Hold it In-Person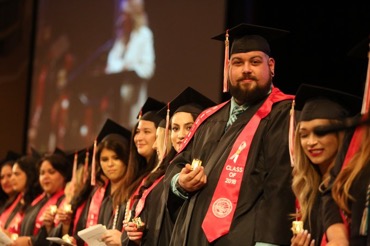 Fresno City College has announced it is now exploring an in-person commencement ceremony after recent changes in California state COVID-19 restrictions. 
The email to 2020 and 2021 graduates includes a link to a survey which asks for feedback on the potential change of plans.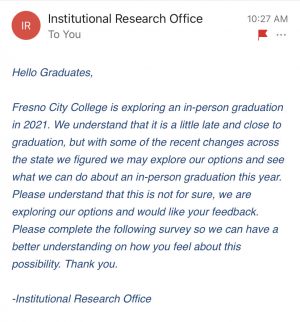 Students are reminded that the decision is not final and FCC is only exploring options. 
Today's announcement comes a month after FCC originally announced they will be holding the spring 2021 commencement ceremony virtually. 
Gardenia Uribe, FCC student who created a petition to have the ceremony in-person and sent it to Kim Quesada, FCC's Secretary to the President, yesterday said she can't help but think her email had something to do with this new announcement. 
In addition, Uribe said Quesada forwarded the petition to FCC President Carole Goldsmith and was told FCC is looking into potential venues and how the in-person ceremony would work. 
Uribe decided to create the petition after someone in a FCC textbook exchange group on Facebook said they think the other local colleges are holding in-person ceremonies due to petitions. 
Other colleges in the area, including Reedley College and Fresno State, do have plans to hold commencement in-person over the course of a few days due to Fresno County's COVID-19 cases decreasing. 
Since FCC is in the same county as Fresno State, Uribe said it's really disappointing of FCC to pick a virtual ceremony nor does it make sense. 
Uribe said she really hopes administration can take the petition into "deep consideration" and make the changes to host an in-person ceremony even if guidelines and limitations are in place. 
If FCC administration doesn't listen to her and other students' wishes, Uribe plans to participate in the virtual ceremony because, "having something is better than having nothing at all." 
FCC's original decision was made by FCC health officers, faculty, staff and others at the Fresno  County Office of Public Health,  according to the announcement released on March 5, 2021. 
"As FCC continues to uphold its commitment to keep students and staff safe and healthy, the college must sometimes make difficult decisions that may not be popular," FCC President, Goldsmith said.  
For the virtual ceremony, FCC said it has partnered with Fresno's Community Media Access Collaborative (CMAC) to produce and live-stream the ceremony scheduled for Friday, May 21, 2021, at 6:30 p.m.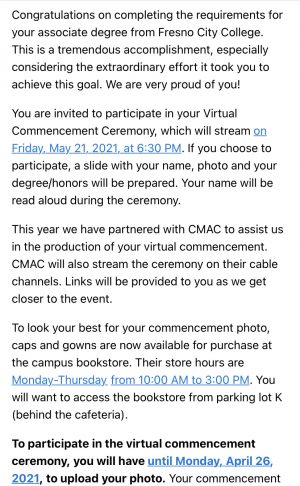 Following the unveiling of the original plans, students have begun to voice their opinions. 
Jefferson Holcomb, another FCC student, is graduating this semester with an Associate's Degree of Science in construction. 
Having worked hard to earn his degree, Holcomb believes a virtual ceremony, "greatly detracts from the sense of pride and accomplishment." 
To improve the experience, Holcomb said faculty should refrain from talking about the pandemic at the ceremony because it should be a space where students are allowed to express their struggles over the last year and how they overcame them. 
Either way, Holcomb will not be participating in the virtual commencement ceremony because he would rather use that time to celebrate at home. 
Students who do participate will have a slide with their name, photo and their degree/honors prepared and their name will be read aloud. 
The deadline for students to submit their photo, preferably in their cap and gown which can now be purchased at the campus bookstore, is Monday April 26, 2021. 
Bookstore hours are Monday through Thursday from 10 a.m. to 3 p.m. 
Jason Stevens, another FCC student, is set to receive an Associate's in communication and an Associate's in criminal justice at the end of this semester. 
Stevens is not happy about the virtual commencement ceremony since he worked hard the last couple years to get to this point. 
However, he understands, "sacrifices need to be made," and the decision made will keep everyone safe during these times. 
Unlike a traditional ceremony, Stevens said having a virtual ceremony gives more family members the opportunity to see their loved ones graduate through the live-stream. 
Stevens and Holcomb did not comment on today's announcement from FCC. 
For more information regarding whether FCC will move the ceremony in-person or remain virtual, students are encouraged to regularly check their student email account.