Nation's first Youth Poet Laureate shows the power of young voices
On the morning of January 20, against the backdrop of Washington elites, past presidents, first ladies, and celebrities, Amanda Gorman, a 22-year-old poet from Los Angeles, in a bright yellow blazer and red headband, read her poem, The Hill We Climb at the inauguration of Joseph R. Biden Jr. and Kamala Harris.
The poem addressed an audience who for months have been bunkered at home, still fearing a virus that has taken the lives of more than 400,000 Americans, and a country in search of unity—still processing the trauma of the January 6 attack of the Capitol.    
As Gorman spoke her hands gestured each syllable like a conductor orchestrating words into sentences. And as we listened, each word anchored by her emphasis, she reminded us all that words can still have meaning when faced with brokenness and the voices of young people can still beam of hope.
The last four years, the Trump administration has worked to promote a language of misinformation, conspiracy theories, and white supremacy. Even the civic institutions that provide the foundation for our country's democracy were questioned of their patriotism.    
But even before then, our country had been fractured by the grim vein of systemic racism and our Earth withering from the effects of global warming.
It was from there that Gorman found us, as she begins in "The Hill we Climb:" When day comes, / we ask ourselves, / where can we find light in this never-ending shade?
In the history of our country, there have been five inaugural poets before Gorman.
Beginning with Robert Frost at the inauguration of John F. Kennedy in 1961. Frost penned the poem "Dedication" for the event, but unable to see from the sun's glare recited the poem "The Gift Outright" from memory instead.
More than 30 years later, a young Bill Clinton asked acclaimed poet Maya Angelou to recite a poem at his inauguration, resulting in the poem, "On the Pulse of the Morning." Four years later, Clinton asked poet Miller Williams, who recited, "Of History and Hope."
Thus, began an unofficial tradition among Democratic presidents to include a poem to be read at their inauguration.    
President Barack Obama, at the start of his first term in 2008, invited poet Elizabeth Alexander, who recited her poem, "Praise Song for the Day." And in 2013, Obama invited Richard Blanco, who read his poem, "One Today."
Much like Gorman's, "The Hill we Climb," each of these poems share themes of hope and peace. They envision grandiose ideals and preach the same Americanisms taught in U.S. history classes throughout the county.   
However, they also refuse to forget the painful past. Angelou references the massacre of Native people, whose livelihoods were sidelined in the creation of our country.
Blanco talks of the plight of the blue-collar worker, barely able to make a living wage. Alexander mentions the infrastructure that was built on the back of marginalized people exploited for their labor.
Each poet recognizes that progress only comes from the acknowledging and reconciling of the past. Gorman too writes: "It's because being American is more than a pride we inherit. / It's the past we step into and how we repair it."
But what separates Gorman's poem from other inauguration poems is not her ability to capture the themes of our country, it's her ability to capture the moment we're in.     
"What's powerful about Gorman's poem is how many people, especially young people, it's reaching and moving and that is exciting to see," said Lee Herrick, a poetry professor at Fresno City College and former Fresno poet laureate.
"What is exciting in the poem is not only that exuberance and that exhilaration but also the wisdom of it, it's not a young, naïve person," Herrick said. "This is a poet in tune with the world, in tune with the language and in tune with the way we can move forward."
After the recital of her inaugural poem , Gorman reveals  the beginning of what looks to be a long career ahead of her. 
But it is through the lens of her youth that we find hope in "The Hill We Climb".
It's Gorman who speaks on behalf of the teenagers leading Black Lives Matter protests around the country.  It's Gorman who speaks for the high schoolers fighting to raise awareness for climate change.
In the past elections, polls showed an increase of around 8% in young voter turnout and research shows a surge in political interest among Gen Z and millennials in the last year.
It's Gorman who shows us that true hope comes from the people who not only believe in the future but are the future. That is the moment we are in.
Gorman ends "The Hill We Climb:" The new dawn blooms as we free it. / For there is always light, / if only we're brave enough to see it. / If only we're brave enough to be it.
About the Writer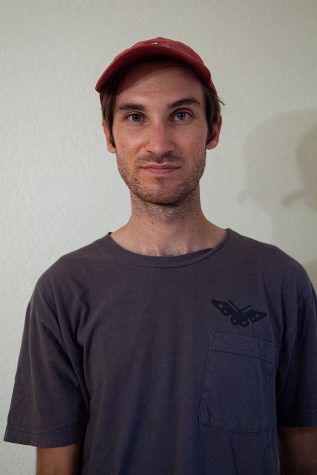 David Richards, Opinion Editor
David Richards, 28 years old, is an English Major at Fresno City College. Born in Fresno, David graduated from Buchanan High School in 2010. He is a returning...