Speaker Shares His Lived Black History in Opening Ceremony
Students and faculty of the FCC community listened to stories about the civil rights movement from guest speaker James E. Watson during the opening ceremony for Black History Month on Feb. 1 in the Old Administration Building auditorium.
Watson told stories of his involvement over the past 73 years in the fight for equal rights for African Americans, particularly the 1963 march in Washington, D.C. with Martin Luther King Jr.
"There were so many people there; I won't see a crowd that big for the rest of my life," Watson said. "It was tremendous."
Beginning with an opening prayer, music, and public speaking, the morning addressed what February meant for individuals.
Frank Hernandez, a member of the Pan African Student Union, said that Thursday's events were very meaningful.
"February is really just a month," he said.  "We need it to be a whole year of recognition and to restructure our education system to teach what needs to be taught in the classroom, rather than us going out after school to do our own research about our past."
He added that he has always wanted to be a part of the community and to educate himself.
"It's another month, but it doesn't describe the challenges, the obstacles, or all of the success that we have overcome as African American people," said Alexandria Benn, president of the Pan African Student Union. "February is a month that we have to show remembrance of our ancestors."
Watson said the Feb. 1 event and Black History Month are a culmination of the fight he has been involved in.  He also attended Barack Obama's inauguration in 2009 where he saw a lot of people that were not African American supporting the first African American president of the United States.
Watson said, "We've worked our lives for this."
The African-American Faculty & Staff Association hosted the event and has a lineup of seven more throughout the month of February.
Feb. 7 — A financial success panel will be held in Room 135 of the Business Education Building from 10 to 11:30 a.m.

Feb. 13 —  The Historical Black Colleges and Universities Caravan will recruit students interested in transferring to one of the colleges in the cafeteria between 11 a.m. and 2 p.m.

Feb. 20 — An African American writing workshop will be held in Room 284 of the Old Administration Building from 2:30 to 4 p.m.

Feb. 21 — A panel on political activism will be held in Room 251 of the OAB from 10 to 11:30 a.m.

Feb. 22 — A screening of the 2016 film: "I Am Not Your Negro" by Raoul Peck will show in the Forum Hall, Room 101. The film will begin at 5 p.m. and end at 7 p.m.

Feb. 24  — Gospelfest will be held in the OAB auditorium from 5 to 7 p.m.
About the Contributors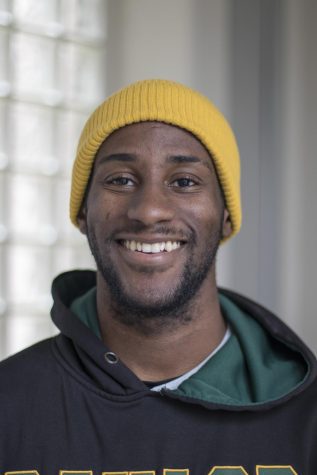 Omari Bell, Social Media Editor
As a writer, photographer, and student-athlete, Omari Bell is one of many to admit, "I do a little bit of everything and a lot of nothing." Born and...