Capable, Caring and Friendly: Meet Your New ASG Vice President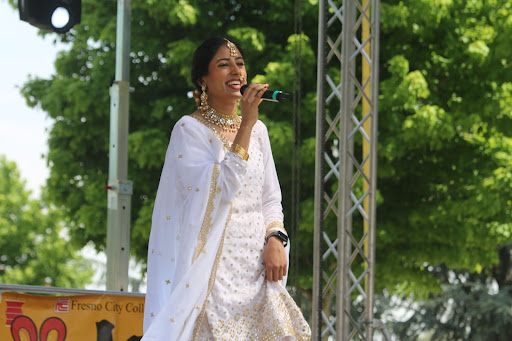 Fresno City College students elected a new Associated Student Government Vice President whose goal each day is to make at least one person smile and help one person in need, while keeping on top of her mental health.
Kiranpreet Rathour, or "Kiran," 24, is the ASG Vice President for 2023-2024.  She is a business administration student at FCC, currently an ASG Senator, and an on-campus tutor for psychology. She was also a previous reporter for The Rampage.
Born and raised in Punjab, India, Rathour attended Chitkara University and earned her bachelor's degree in medical imaging technology at age 20. 
"I was the highest achiever," Rathour said. "I was always hosting multiple events in my university."
She later traveled to Canada but going alone as an international student was a huge transition for her.
Her planned internship to work in a hospital didn't work out as her bachelor's degree did not meet their requirements.
"I was broke, surviving off of noodles for a couple of days, and trying my best to go through that phase of being depressed," Rathour said. "There was a time where I was running away from myself and everything but once I stopped running it went away."
Her interests moved to psychology where she earned her associate's degree at Niagara College in Southern Ontario, Canada. Taking nine psychology studies including both phases of introductory, forensic, developmental, and abnormal psychology.

Rathour united with her family when they decided to move to the United States. They now live in Madera where they own a family business. 
She first attended FCC in Fall 2022 after experiencing the same issue in Canada.
"The courses you do [in other countries] they don't consider equal to their [United States] studies," Rathour said. "They expected me to do the whole process again."
She is majoring in business administration because she can use it in one of her life goals. She also learned that she was good in this major and liked it.
Rathour, as a FCC psychology tutor, teaches her lessons by understanding there are different ways that students learn.
Rathour remembers having a student where she was struggling in not only her study, but in her own life too.
"I can explain to students by their own personal experience how they connect with psychology," Rathour said.
She considers herself as an unofficial therapist.
Angel Medina, a global leadership major student, is also a FCC psychology tutor who has worked with Rathour as a tutor of the same subject.
"She always gives good advice not only to me, but to the people she is helping out," Medina said. "She has a good heart and she just wants to spread that."
Rathour sees her mother as her idol by the art and passion she showed her at a young age. Her hobbies today were activities her mother taught her such as arts and crafts, cooking, and dancing. 
Rathour grows her own produce and uses that to cook Indian, American, and Italian food. She is currently learning how to cook Mexican food. 
One of her life goals is to be a creative director in fashion. She sees fashion as a form of representation rather than style.
"I want to bring that different vision to the high fashion industry where every culture and tradition is valued, represented, and seen by people," Rathour said. 
Rathour hosted this year's FCC Asian Fest fashion show where many Asian cultures are represented. 
She admires her youth as she learned to be mature as early as sixth grade. 
"It was an internal void I felt that wanted me to understand people where they are trying to come from because I never got that done," Rathour said. "I want to make sure the other person doesn't feel the same way."
She found enjoyment doing mathematics and biology throughout her educational career. Physics was the only class she did not like. 
Rathour spends her free time reading books about personal growth and mental health. A favorite book of hers is 40 Rules of Love, written by Elif Shafak.
Landon Dubois, an FCC psychology and criminal major student, is currently an ASG Senator who has worked with Rathour.
"She can do anything that is really thrown at her," Dubois said. "She is very capable."
Rathour believes her potential, experience, and knowledge will make her right as the ASG Vice President. 
"I want people, as a school, to see me as a person that is very approachable," Rathour said. "I'll make sure I go and connect with people and give them the space that this is a very open welcoming space."
For more information on ASG, visit FCC Associated Student Government