Fresno City College Community Celebrates Dia de Los Muertos, Hosts Week-Long Event
The Latino Faculty and Staff Association, Catholic Student Association and Fresno City College Library collaborated on a week-long event for Día de Los Muertos at the FCC library.
As the Latino Faculty and Staff Association executive board worked on Hispanic Heritage month, plans were also being made for the Día de Los Muertos celebration, according to Ernie Garcia, president of the association. 
Día de Los Muertos originated in Mexico and was celebrated on campus Nov. 1- 5 by displaying ofrendas (altars) in the library foyer, providing free pan dulce and hot chocolate for students and staff and displaying classic cars with ofrendas in the trunk.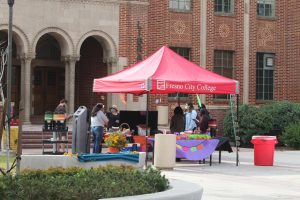 The purpose for celebrating Día de Los Muertos is to honor and remember loved ones with photos and their favorite foods that can be found on the ofrendas.
Estefana Antonio, a member of the Catholic Student Association, said the event was held throughout the week in accordance with the traditional timeline.
Antonio added that the associations are excited to be hosting this event on campus once again because it gives everyone the opportunity to learn more about Día de Los Muertos.
 "If they have never heard about or seen a real altar, this is an excellent opportunity to do so," she said. 
Stephanie Bustos, biology major at FCC, heard about the event from her classmates and decided to attend for the free hot chocolate. 
While she was there, she won a Starbucks gift card and candy by playing a game of loteria, a traditional Mexican card game.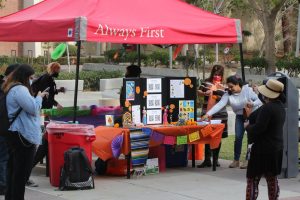 Bustos added that it would be great if similar events were hosted on campus as it gives students like herself the chance to talk to people she normally would not talk to. 
"Somebody show up to these events, please. I need friends on campus," she said. 
Carlos Bustos, business administration major at FCC, also participated in the game of loteria.
Bustos has attended other events at FCC and believes having more events with prizes can attract student participation and increase school spirit. 
"Before COVID everything was more lively, I loved it," he said.
Antonio said the association hopes to make this an annual event in order to make sure FCC continues to share the tradition with the campus community.