Top 5 Costumes and Candies for the Spooky Holiday
The time has come again. The ghouls, zombies, and vampires have crept out of their caves and tombstones, ready for another creepy Halloween night. Despite the economical downturn, people are still full of the holiday spirit and ready for a night of fun, filled with candy and festive parties.
There are pumpkin patches on street corners, spider webs piled on houses, and the occasional scarecrow displayed on front lawns. Fresno City College students are getting the Halloween fever, purchasing their ensembles, chatting about the costume parties, and eating tasty treats.
For this Halloween season, a variety of stores stock all your favorite holiday necessities such as costumes, candy, decorations and scary figurines. Some local favorites are Spirit Halloween Stores, Party City, Target and Wal-Mart. All of these stores have reasonable store prices and also offer special discounts on some items.
For all ghouls and gals looking for a hot and stylish Halloween costume, the Shaw and West Spirit location is up and selling some of their favorite and most popular costume brands.
Some of the cute and chic costumes for women are found in their four most famous brands: Leg Avenue, Sexy Spirit Long, Dream Girl, and Secret Wishes.
For men, some of their top costumes include movie icons, scary scarecrows, creepy clowns, and much more. Michael Quinn, assistant manager at Spirit, said that many men and women come into the store to try on a variety of costumes and purchase their overall favorite.
The number one female costume this year is the "Kandy Korn Witch" (top right). The striped yellow, black, and orange tutu dress is very simple and comfortable. The Leg Avenue costume includes the hat, dress, and long stockings for a total price of $59.99.
The "Forest Nymph" (middle right), an exact replica of the Disney character "Tinkerbell," is just $49.99. Her two piece set comes with an olive green knee length acrylic dress and a wand. You can find this Dreamgirl fairy costume in a variety of sizes for both petite and plus sizes.
"Cabernet" (bottom right) is a silky red and black dress, trimmed with lace and feathers. This beautiful Secret Wishes costume includes the dress, garters, gloves, and a feather headpiece, all for only $49.99.
Another Secret Wishes favorite is the "Broomstick Babe." Her black boa dress is a more contemporary version of the classic television icon "Samantha" from the TV show Bewitched. Her $49.99 costume package includes the black boa, a trimmed dress, and black feathery hat.
Last, but not least, is the original "Storybook Sweetheart" character series. These Sexy Spirit Long costumes come in a wide variety of characters such as "Alice in Wonderland" or "Little Miss Muppet."
"The Storybook Sweetheart" costumes come with only a two piece set which includes the printed ballerina dress and headpiece, all for $64.99.
The 2009 Halloween costumes for women are glamorous, unique, and affordable. On the other hand, the top five male costumes are more spooky and frightening. The top five male costumes include some original as well as newer and creepier versions.
In the number one spot is the "Vampire" (top left). The long velour cape and vest add a stylish feature with a dark side. The three piece set includes the shirt with an attached vest, cape, and medallion for $39.99.
In second place is the killer from the box office hit movie, Halloween. The "Michael Myers" costume (middle left) consists of dirty blue overalls, a white mask, and a plastic knife. His outfit may be simple, but it has a killer image.
In third place is "Count Dracula." This $39.99 outfit is very similar to the "Vampire." The one significant difference is the colors of their capes. "Count Dracula" includes a dark black cape, shirt, and vest.
In fourth place is the "Scarecrow," which comes with a cloth sack mask, shirt, belt, and gloves.
Julie Vang, a Spirit costumer, said she was terrified of her boyfriend when he walked out of the dressing room. "Out of all five costumes, I would have to say that the scarecrow was the complete scariest," Vang said. "His mask with no eyes or mouth makes you tingle while chills run down your spine." The "Scarecrow" is one of the top five Halloween favorites because his image is very similar to the horror movie Strangers.
In last place is "Carver the Clown" (bottom left). This creepy costume comes with the polka dot colored pant suit, shirt, mask, and ruffles. Carver has an evil appearance; his razor sharp teeth and sinful eyes look as if he just popped out of Stephen King IT movie. The total price for psychedelic clown is a surprising $49.99.
You can find these female and males costumes, and many more, at the Shaw and West Spirit location.
Now let's talk about everyone's favorite part of Halloween … candy!!! For those of you who have an extra sweet tooth during the holiday season, you can purchase some of the top five candies found at your local stores such as Target, Walgreens, Wal-Mart and the new CVS stores.
The top five delicious, creamy, and tasteful candies of the 2009 Halloween season are: 1) Hersheys, 2) Reeses, 3) Snickers, 4) M&M's, 5) Candy Corn (Autumn Mix).
All these chocolate delights are found in various flavors such as milk chocolate, dark chocolate, and white chocolate. You can also find them in variety packs for less than $3.00 each.
For this entire month, all Fresno Target locations are having sales on Halloween candy. You can purchase all trick-or-treat candy for $2.49-2.99 each or indulge yourself on the two for $5 deal.
Halloween is only a week away. If you are planning on celebrating, head over to any Halloween Spirit location or Target stores and join in on the tradition.
You will be able to find a last minute costume and grab some delicious candy for the night!
About the Writer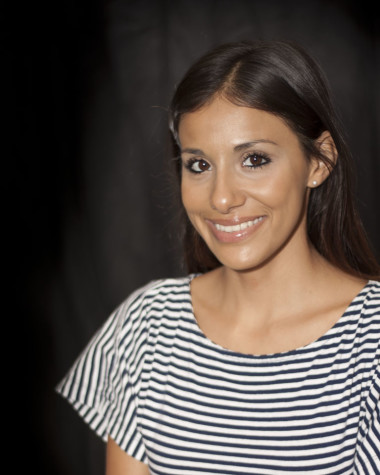 Sydney Excinia, Business Manager
Follow @MissSydneyMonet
// Sydney Monet Excinia was born and raised in Fresno, Cali. The eldest of three children, she quickly realized how her role as...