Women's Wrestling Is Finally Here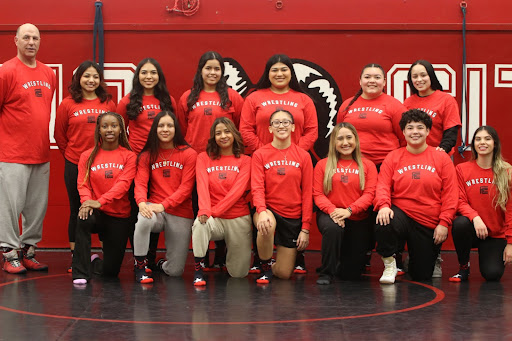 Spring 2023 marks the inaugural season for Fresno City College's women's wrestling program with Gracie Figueroa as the assistant coach.
Figueroa is a four time undefeated State Champion, a six time World Team Member, and a five time Fargo National Champion. 
"If you want to be the best, you've got to exclude yourself from the world and take yourself to a different spot, to take you to your discomfort," Figueroa said. 
Figueroa initially started training in MMA alongside her brother, until her brother made the switch to wrestling. She would go to his practices and tournaments and eventually tried wrestling out.
"If I'm going to watch, I want to compete, I was bored of just watching," Figueroa said. 
It was not easy for Figueroa at first, but she understood what it took to continue in this sport.
"It took a lot of sacrifice and dedication, not being able to have a social life to get what I want," Figueroa said. This dedication showed when she became a World's Bronze Medalist, 2020 US Open Champ, and a College National Champion.
When Figueroa tore her ACL and meniscus in March 2022, she was disappointed. A recovery that can last a year leaving her off the sport temporarily, until a coaching opportunity for FCC's new program came along. 
She's been through it all and has experience to help out her team as a recent wrestler herself on the road to recovery, she said. 
"It's all that matters, helping them progress in the sport," Figueroa said.
The current men's wrestling head coach, Paul Keysaw, will also be the head coach for the women's team. 
Keysaw has led the men's team to State Championships and now has the opportunity to do so for the new women's team.
"The world needs more wrestlers," Keysaw said.
Keysaw is the president of the California Community College Wrestling Association and says he has been pushing for a women's division for about six years. 
"Having a women's team is past due," Keysaw said.
The women's team was going to begin in 2021, but COVID-19 stopped the rollout, Keysaw said. 
Keysaw has been involved in wrestling since he was 8 years old and knows that having a women's team will only be beneficial for the sport as a whole. 
"This is where the rubber hits the road and in January, it's for real," Keysaw said. 
The women's team started off-season practice last semester and has about 11 people on the team according to Figueroa. Their first meet was on Feb.11 at Elk Grove.