Rams Score Pivotal Win at Homecoming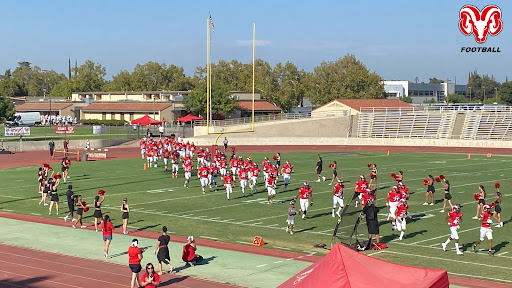 The Fresno City College Rams won their homecoming matchup against the College of the Sequoias on Oct. 15, with a score of 21-13 in what proved to be one of the most important games of the year.  
The first quarter was slow and brought many three-and-outs, aside from a 71-yard touchdown drive from the Giants.
The second quarter saw more of the same until mid-quarter when a punt from FCC was fumbled by COS, leading to a 33-yard touchdown drive from FCC; setting them up for the remainder of the game.
The win puts the Rams back in prime position with a .500 record and 1-0 in conference play heading into their final four games.
The Rams had a rough start to the season losing three out of their first four games, but with a 14-13 win against Laney College on Sept. 30 heading into their bye week, the team was set up for an exciting homecoming game. 
"It's important for us to get back on track because we're going into conference week, and we've been working hard for two weeks straight just to get back on the same page and to learn from our past mistakes," said sophomore wide receiver Timothy Conerly in the days leading up to the game. "I know we're ready for this Saturday."
Freshman quarterback Andrew Butler was looking forward to all the excitement that comes with homecoming football. 
"It's exciting when the fans come to support, it helps us so much having a great crowd, it gives us momentum," said Butler.
The homecoming victory couldn't have come at a better time for a Rams team coming off a bye week, with this big conference win setting the tone for the rest of the season. The bye week is a scheduled off week for a given team. 
This homecoming game also celebrated the 50th anniversary of the Rams' 1972 California Community College State Football Championship where alumni of the team attended as special guests and participated in the pregame coin toss. 
At halftime, FCC sports teams paraded on the field, while motorcyclists from clubs Second II None and Chicano Life rode down the track.
All future game tickets will be sold at Ratcliffe Stadium box office.