Fresno City College's "Heroes to the Rescue" Veterans Day Ceremony
Fresno City College held its annual Veterans Day Ceremony on Nov. 5 at the Peace Memorial Monument. This year's theme was "Heroes to the Rescue."
According to Kathy Bonilla, FCC's public information officer, the event recognized frontline healthcare workers helping veterans and California Army National Guard members who rescued those stranded during last summer's Creek Fire. 
Interim State Center Community College District Chancellor Douglas B. Houston was the keynote speaker at the event. He spoke about the importance of veterans and their service to this country.
Houston gave insight into his background, saying that the military was not just a huge part in his life, but his family legacy as well.
He tied the news of the U.S. withdrawal from Afghanistan with today's ceremony to better sympathize with today's veterans saying that it was "more of a retreat."  
Houston said all of the soldiers' valiant and exhausting efforts during the conflict in the Middle East caused deeply painful questions about their service and sacrifice.
However, "We Americans are not warlike people. These are all monuments of soldiers, not the battle," he said.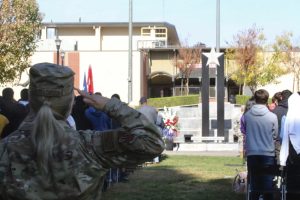 What followed all of the heartfelt praise and speeches were the recognitions of all of the other service members in attendance, who were then awarded a special pin to wear.
Bagpipe performances by Scott Porteous, the singing of America the Beautiful by Tay Bumgarner and FCC's concert band were included throughout the ceremony as well.
Also at the ceremony, Chief Master Sgt. Lynn E. Williams, adjunct criminal justice instructor and recruit training officer for FCC's Police Academy was given the Citizen Soldier Award.
Lead instructor of FCC's Police Academy, Gary Fief, said he had the honor to nominate Williams for the award for his abilities to evaluate, coach, counsel and train the cadets. 
"Due to Chief Williams' unquestionable moral and ethical standards I selected him for this position," he said.
Williams was not able to attend the ceremony as he is currently deployed in Ukraine, according to Fief.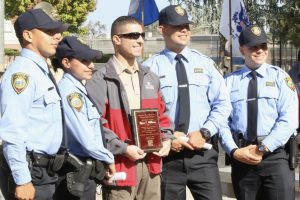 As this was Fief's first time attending one FCC's Veterans Day Ceremonies, he said he found it to be a heartwarming event 
The Design Science High School located on the FCC campus filled the crowd with students such as Maddie Serban who said the ceremony was informative.
Jaime Duran from the Veterans Resource Center said the ceremony was a collaborative effort with the student activities department. 
He added that the most challenging part was ensuring safety protocols since last year's ceremony was not in-person.