Fresno City College Working to Develop Mobile App
Fresno City College announced it is looking into creating a mobile app where students, faculty and others can find information and more about the college. 
The creation of this app was supposed to happen in the new year or two, according to David Childers, Director of FCC's Title V Program. 
However, the COVID-19 pandemic has proved to be an issue for many students which is why Childers and his team are hoping to get a head start on the app now since it might take a while to develop the app. 
Childers and his team made up of administrators, instructors and two students have already been meeting for the last few months to discuss it.
But they decided to host a Zoom meeting on May 4, 2021 to get input from students since they are the ones who will actually utilize it.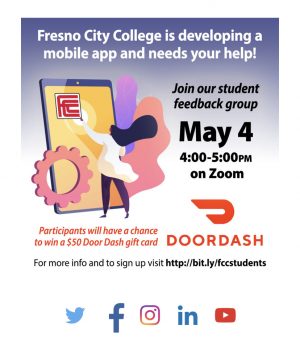 During the meeting, students mentioned a large variety of features they would like the app to include such as a tab for campus news, direct links to services and programs at FCC, maps and GPS services while on campus, ability to buy parking passes online and more. 
Raymond Gonzalez, business administration major at FCC, was one of many students who attended the Zoom meeting with hopes of learning more about what aspects of student life FCC plans on catering to.
Gonzalez believes an app will be useful to any student who has a mobile device. 
"Although our college is small, there are a myriad of resources, activities, buildings and services to get lost in. Many mobile browsers do not display websites correctly. Having a mobile app will streamline the appearance and function of information," he said. 
However, a big concern Gonzalez has about the app is the timeliness of information and updates because he feels FCC's website is outdated and not the easiest to navigate. 
Another concern he has is the possibility that personal information will be handed off to other companies. 
According to Childers, the plan is to make the app available for Apple and Android devices while making sure FCC has full ownership of the app.  
Gonzalez also expressed the importance of maintaining and improving the FCC website and other physical means of communication because not all students have mobile devices so the mobile app should be one communication tool but not the only one. 
If invited in the future, he said he would gladly participate in more forums because he is interested in budgeting for development and maintenance. 
Since it is still early in the planning process, Childers is unsure of how much it will cost to make the app but estimates it will be around $200,000. 
The "Redefining Student Ready" grant, which was awarded to FCC in 2019 and is distributed in payments of $600,000 over a period of five years, will cover the cost of the app, according to Childers. 
The grant is aimed at making colleges better and more responsive to the issues faced by students throughout their academic career. 
FCC is not required to make a mobile app with the grant money but Childers said their research shows not many colleges or universities have designated apps so creating one will give FCC the chance to try something new for students. 
"The main purpose is to come up with the best possible mobile experience that we can, so we're going to take our time and be very thoughtful and intentional about how we design this app," he said. "We feel confident that we can bring that information that students really really need." 
Currently, there aren't any plans to host another Zoom meeting but Childers said they are always an option, even when the app launches because his team will be looking for ways to improve it. 
Students who did not attend the meeting but would like to pitch ideas of features to include can contact the Title V staff at [email protected].