Bookstore Becomes Difficult Place to Buy Books
Story By: Kris Hall, Reporter
September 11, 2019
The leaders of the academic senate and student government expressed frustration with the state of the Fresno City College bookstore during the meeting of the State Center Community College District board of trustees on Sept. 3.
"Textbooks are not on shelves or they are the wrong edition," ASG President DeRon Walker told the trustees that students. "There are wrong materials batched together and access codes that are not correct."
Walker explained some of the problems, including textbooks that are not priced–which prevents the books from being sold. Ultimately, these problems kept the books out of the hands of students–those who need it most.
"I went from a student with A's and B's to a student who is potentially going to fail," said Lola Gayles, an FCC student who spoke to the trustees with no prepared speech; she held just a book in her hand.
Gayles told the trustees that she took two classes in the summer of 2019 and was unable to purchase the materials she needed for each class. The book she held was what she needed for her summer class. She was only able to purchase it in the third week of the fall semester.
In an email to staff and some faculty, Carole Goldsmith, FCC president, wrote that she had spoken earlier that day at the Chancellor's Cabinet meeting where she shared the FCC Bookstore Survey results for Fall 2019 which 1,737 students had participated in as of 11:30 a.m. on Sept. 9, 2019.
"It reflects the highest response rate we have recorded in recent memory," Goldsmith wrote. "Regrettably, far too many students have indicated a negative experience with the bookstore, and disappointingly, far too many students still have yet to receive their needed textbooks."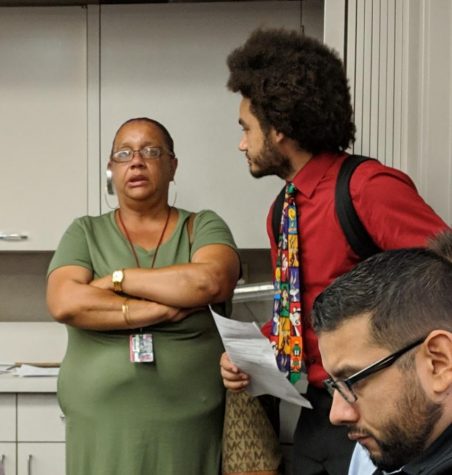 Gayles said she was unable to redeem her textbook vouchers from the department of rehabilitation or anywhere else. Instead, she was forced to visit the bookstore every day to check if the problem had been resolved.
Gayles choked up a few times as she spoke passionately about her commitment to school and how the discord in the bookstore has hurt her academic standing.
ASG President Walker said that students are not getting itemized receipts, which is important for students' financial records. He also said that some books are not listed under the book title but rather by teacher's names, adding to the confusion.
Aggravating the problem was the state of the new computer registers which kept crashing and causing more delay and lines that lasted hours and forced students to pay in cash.
"Students who are receiving financial aid such as CalWORKs and EOPS that can only be used at the bookstore were not able to purchase their books here and were forced to look elsewhere," Walker said. "Which means for students already on these programs, there is really no chance for that."
Karla Kirk, president of the academic senate, said it is imperative to present the bookstore problems which she characterized as "grave and urgent concerns" to the trustees.
Kirk reported incidents of staff at the bookstore falsely blaming instructors for not ordering their books as justification for empty shelves.
After following up with the teachers about absent books, Kirk found this accusation to be false; to the contrary, some of the instructors whose books were missing had placed their orders months in advance, leaving ample time for any problems that may have risen to be resolved before the beginning of the semester.
"The wrong edition of a $200 textbook was sold to students," Kirk said. "A student in the program showed me his book and told me he could not get a refund."
Kirk told the trustees the bookstore's response was that refunds would be completed within four to six weeks.
"We are [now] four weeks into the semester," Kirk said about the absence of textbooks.. "That's 25% of the way. Midterms will begin in four weeks."