The Fight Against Hunger: Ram Pantry Sees Drastic Increase in Visitors This Fall
The Ram Pantry is off to a busy start this fall semester with incoming students eager to be the first in a long line to get free snacks, produce and hygiene necessities.
"I've already seen more students this semester, in the first week of school on a daily basis, than what we had in the spring," explains Ram Pantry Coordinator Cindy Dunn, "So the number of students who are aware of the pantry and coming to it has increased dramatically." 
With just a student ID number and a few bags, any current Fresno City College student is welcome to take eight items of food and necessities a day. The pantry is open Monday through Friday from 10 a.m. to 2 p.m. Additionally, the pantry is open on Monday and Thursday from 4 to 6 p.m. for evening students and athletes who may just be finishing up with practice. 
Staff workers at the Ram Pantry focus on making sure the food brought in is healthy and nutritious for students. 
The original goal of the pantry was to provide free food for students so they didn't have to worry about being hungry or having to make the choice of either purchasing food or textbooks. 
"I see people get so excited to get free food; people are shocked," Diana Muradyan, student aide for Cal Fresh, said. She started to work with Cal Fresh this summer and said that working in the Ram Pantry feels like a family.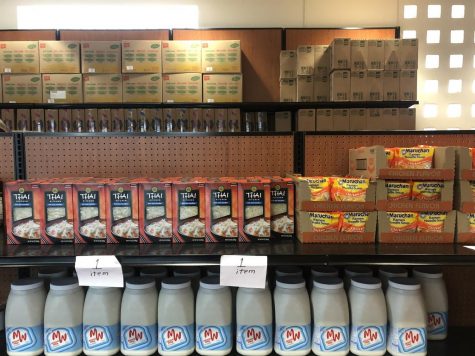 Ram Pantry has a contract with Cal Fresh which allows students further access to beneficial food programs.
The Ram Pantry supplies come from numerous sources, including the Community Food Bank and organizations such as the Cornerstone Church, Open Hands Pantry and Fresno Metro Ministry. 
The U.S. Department of Agriculture plays an important role in Ram Pantry's fresh produce as well. "They'll give big cardboard bins full of produce, so we'll take apples, maybe spaghetti squash, different kinds," Dunn said.
Students who visit the Ram Pantry frequently, like student James Blake, benefit greatly from the free food, eliminating food insecurities. Blake said he lives on his own and sometimes struggles with getting enough. 
"The Ram Pantry is good for people who really can't afford food," Blake said. He applauded the college for providing this service for students in need.
The Ram Pantry is located in the Student Center, right next to the bookstore.