Student Activities Kicks Off Spring 2022 eSports With Rocket League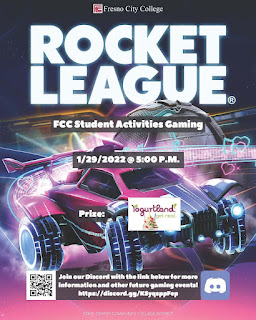 On Jan. 29, students joined the Fresno City College's gaming Discord server hosted by FCC Student Activities staff to play Rocket League. 
There was excitement and laughter throughout the night as students played one on one matches of Rocket League. 
FCC has a Discord server where people can go and interact with each other and play games online. 
Once a month the community will choose a game to play on the Discord server. 
According to Roberto Damian, an English major and Student Activities staff, students can enter the monthly raffle and win gift cards to a variety of places.
Students are entered in raffles by being an active member of the Discord or winning games that are hosted each month. 
Damian said Student Activities tries to keep the games they play free or commonly owned and cross play so more students can be included.
Student Activities Services plans on hosting games on their Discord server two times each month according to Damian.
Future gaming events can be found on Student Activities social media.