Latino Faculty and Staff Association's Efforts to Bring fun Back to Campus
On Oct. 14. 2021, Fresno City College's Latino Faculty and Staff Association hosted its Cantarito Fundraiser, an hour-long event of folklorico performances and the sale of Latino inspired beverages, in honor of Hispanic Heritage Month. 
Money raised on Thursday will go to scholarships that the Latino Faculty and Staff Association provides, as they are an organization devoted to supporting the Latino community at FCC. 
However, Vice President of the association, Maribel Ternate, insinuated that after more than a year of virtual events, this year's fundraiser was also a way to bring some fun back to FCC. 
"We are going to do everything that our community college expects us to do in regards to the pandemic but let's move on," she said. "Let's bring some fun back to FCC."
Ternate added that incoming freshmen and most students at FCC have only gotten to experience college life online which might give them a boring impression of the college scene.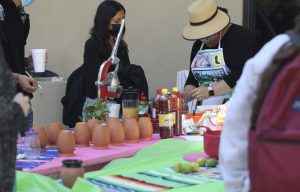 Despite expecting a small amount of foot traffic, Ternate said the committee is working valiantly to show how far they are willing to go just to bring life back on campus.
Due to the suspected low rates in attendees, the Latino Faculty and Staff Association was aware of the possibility that not much money would be raised and ditched the idea of having a goal for this fundraiser. 
However, the event's timing and placement near FCC's cafeteria contributed to the size of the audience of approximately 60 people, and the selling out of items like the cantarito cups. 
Victor Torres, adjunct professor of chicano studies and folklorico dance, noticed there were high school students who came to FCC on a school trip at the event. 
According to Torres and some folklorico dancers, the performance was stressful due to the lack of time they had to practice, as they were only able to meet once a week.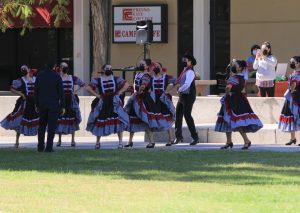 Despite this, Jessica Cruz, one of the folklorico dancers, said it was a really fun experience for a lot of the girls and it was just about rekindling friendship. 
Mark Santuyo, another member of the folklorico squad and the only male dancer at the event, said he needed more units to become a full time student so he tried the course and ended up enjoying it.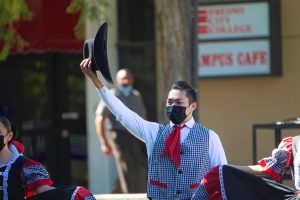 "It was really fun to learn the traditional dances from Mexico," he said.