Fresno City College's Asian American Month During the Pandemic
The month of April is Asian-Pacific American Heritage month and usually, Fresno City College hosts Asian Fest which is a celebration and a way to showcase different Asian cultures, such as their cultural dances and foods, however, due to COVID-19 it was canceled.
Even though Asian Fest is canceled the Asian American Faculty and Staff is still hosting virtual events throughout the month of April. 
During FCC Spotlight on Asian American Month, an interview series by host Maile Martin, Senior Specialist of Student Activities, Martin interviewed John Cho, Asian American Studies Instructor.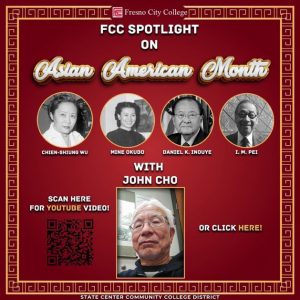 In the interview, Martin and Cho joked about Martin believing Asian Fest should be called "Cho Fest," since Cho was the one who started the celebration of Asian Fest at FCC.
When Cho first started teaching Asian American studies full-time at FCC, he wanted to start Asian American week since there were other recognitions such as Black History Month and Women's Month. 
To make his idea into reality, Cho asked his brother to donate money in order to start off his goal.
 From there Cho created a Foundation account, which he does not remember the exact amount raised, to get the rest of the funds and eventually Asian Fest slowly started becoming the big event it is today. 
Cho believes the reason Asian Fest is the big community event is because of the help from Martin. 
When Martin started at FCC in 2006, Asian Fest was small but began to help turn the cultural celebration into a larger event by providing sponsors, performances, kids areas, Asian Villages, and food booths. 
Rainbow Lee, child development major at FCC, who attended Asian Fest in the past said she really enjoys Asian Fest because of the delicious foods and how entertaining plus memorizing the different performances are.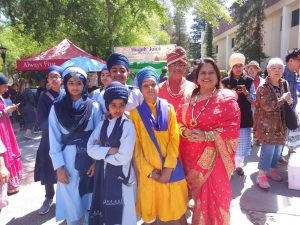 Lee also said that when FCC does host Asian Fest again, she looks forward to inviting more of her friends and family.
In the past, Asian Fest has brought over 3,000 people to FCC on the last Saturday of Asian American month, according to Martin.
Tchay Her, President of AAFAS, and Cho said it was difficult to plan events this year since most of the events in the past were in-person, so this year they decided to have virtual events, such as 88 Poems by Cho, AAFAS Speaker Panel, and Favorite Asian Authors Book Read, where people can still learn and enjoy visuals. 
If Asian Fest is able to happen next year, something everyone can look forward to is more vendors, more activities that target all age groups, and more options of food along with more entertainment, according to Her.
For Her, Asian American month is important because it is a celebration of the Asian culture, background, and experiences. 
  "Celebrating your roots is a sense of pride and joy. It is important for one to know their roots and have a place to belong," she said.