Chuchería Presented by Caleb Duarte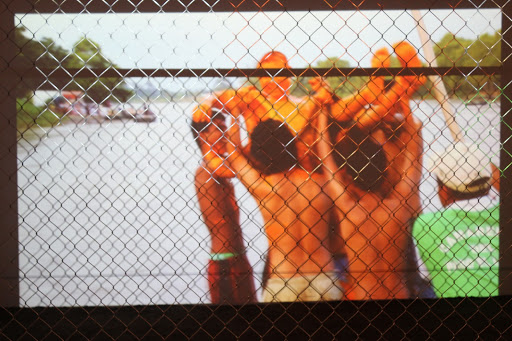 Art Space Gallery at Fresno City College opened its doors to "Chuchería," a new sculptural installation by Caleb Duarte on Thursday, March 5. 
Caleb Duarte is a full-time sculpture instructor and alumnus of FCC who presented his work in "Walking the Beast," an ongoing project with children at a refugee camp in Chiapas, Mexico at the Mexican-Guatemala border through the sculpture. 
Duarte wanted to highlight how they are interacting with the people using the river and the raft to move consumer goods. In the midst of all this activity, his photographs show these kids covering themselves with paint, bright orange and pink paint. 
"The idea is about visibility. About making themselves clearly visible, more brightly colored and also creating a link between human beings, human bodies with the consumer goods that are being moved on the rafts and how eye-catching they are," Art Space Gallery curator Elena Harvey Collins said.
She spoke about the art Duarte creates and the connections he makes throughout his installations. "Caleb is known for creating large structures that are temporary and they reference vernacular architecture," Collins said.
The space of the gallery was used to convey his meaning behind it, Collins said. 
"In this case it also became about home and sanctuary and almost about this idea of spirituality and how powerful the symbolism of home is and for migrant communities who are trying to make the dangerous journey north," she said.
To her, that message resonates with Central Valley residents because of the opportunities affordable housing and culture provides to migrants. Collins believes denizens of the Valley also have mobility issues and are surrounded by constant building and construction.
Duarte engages multiple art histories and legacies into his work and uses other artists' work as a reference in his presentation. He tries to explore the question of how to display that type of work in an art gallery. 
He showed how the light throws shadows throughout the room and how plaster, drywall and white paint exposes the fragility of materials that are used to construct homes in suburbia and the symbolism hidden in the sculpture.
"Galleries come with their own history and their own problems because galleries usually have been exclusive to working people. So I'm trying to figure out how to use the history of the gallery to present this type of work that is not meant for a gallery," Duarte said.
The exhibition is showing in the FCC Art Space Gallery open Monday and Tuesday from 10 a.m. to 4 p.m. and Wednesday and Thursday from 10 a.m. to 7 p.m. until April 9.