The Obscurity Zeitgeist: Riot Grrrl 2.0
Story By: John Bruce, Entertainment Editor
February 26, 2020
Everyone wants to be in on the next big thing. Bands and musicians are born from underground movements and the biggest artists constantly praise their day one followers, but how do people find out about musicians before they hit it big? John Bruce discusses exactly these kinds of bands and solo artists in The Obscurity Zeitgeist, a bi-weekly column shedding light on the people responsible for the next big thing you don't know about.
It's a shame the riot grrrl movement went belly up in the mid-'90s because it gave so many women a voice in punk and alternative rock. Some of my spare time is spent scouring Spotify or Bandcamp for rockers with an all-woman roster or with a fiery frontwoman to not much luck.
So last summer, The Regrettes played on Spotify radio and for the next few weeks, they never left my ear.
"I'm not doin' too bad/Even though sometimes I might get real mad"
The young band has put out two records, one in 2017—the focus of this piece titled "Feel Your Feelings Fool"—and one in 2019 along with two EPs, one officially unreleased in 2015 and another available on Spotify in 2018.
While their second album takes a slightly more poppy pivot, the '90s pop influence is not absent from their first release. In fact, their sound can best be defined as if surf rockers travelled through time, picked up a riot grrrl influence along the way and found their way into a contemporary garage band.
To be clear, surf rock isn't that stuff Mac DeMarco puts out. It's the style of music used in beach party movies from the 1960s and popularized by Dick Dale and the Del-Tones noted for famed song "Misirlou" which modern audiences might know from the beginning of "Pulp Fiction" or from the Black-Eyed Peas' hit "Pump It."
The Regrettes uses the same style of guitar play—stylized by a vibrato arm and a spring reverb—but they then add frontwoman Lydia Night's staccato slightly grating voice and distortion atop that to create a unique brand of homemade vocal surf made only by Night and her comrades.
Some of Night's wailing is reminiscent of Bikini Kill's Kathleen Hanna who originally spurred the original riot grrrl movement and Night has found a way to pay homage and continue the legacy of punk warriors like Hanna, Allison Wolfe, Carrie Brownstein and Kathi Wilcox.
Even the cover of "Feel Your Feelings Fool" looks like a homemade zine which was critically central to the underground spread of punk in the early-'90s Pacific Northwest. Their lyrics only make it more apparent where The Regrettes get their core influence.
"I'm so sorry that I wasn't your perfect girl"
Many of their songs, if not the majority from this album, center around relationships. They take a feminist perspective by looking at them through the lens of a dissatisfied woman or a woman who crushes hard on someone.
It's a widely ignored viewpoint in most popular romance stories that sometimes women are unhappy or that they have intense romantic or sexual feelings as well and Night brings those to light.
Songs in this vein include "I Don't Like You," where a man keeps coming on to the narrator much to her dismay, "Juicebox Baby," where the narrator feels frustrated or angry at herself for falling in love because it makes her feel infantilized, and "Head in the Clouds," where the narrator pleads with an arrogant love interest to tear down the bravado and be real.
That song is where we get the titular lyric "'Just feel your feelings fool!'"
The other side of the album features seemingly autobiographical vignettes of life as a woman in the United States.
Again, like the riot grrrls before them, The Regrettes show a plain, baroque and sometimes vulgar image of femininity.
Songs in this vein include "Ladylike/WHATTA BITCH," which discusses the gender roles women are expected to play and the backlash if they don't play along, "A Living Human Girl," which portrays a realistic depiction of puberty and body hygiene for a girl, and "Picture Perfect," which tells the story of a popular girl in school who catches the eye of all the students and the rumors that surround her.
Through the lyrics, content and delivery, The Regrettes have solidified themselves as a continuation of the riot grrrl aesthetic into the second decade of the 21st century.
"I know he might seem really cool/But I told her, "Just feel your feelings fool!"
Punk—and rock in general—is not as popular as it used to be, yet bands keep making comebacks expecting raucous applause.
Two pop-punk bands (Green Day and Fall Out Boy) are touring with a former garage rock band (Weezer) this year. Pop-punk icon My Chemical Romance also announced a reunion this year. Bikini Kill released an album in 2015 after disbanding 19 years previous. The Distillers, another riot grrrl band, released new music in 2018 after disbanding in the mid-2000s.
Still, young bands in the genre (like The Regrettes) are still fighting for a spot at the table after consistently producing high-quality unique music in the genre. It would not be surprising if they helped some other alternative women in the same class of performance and lyrics come to prominence as well.
So, I look forward to the resurgence of riot grrrl as a sort of Riot Grrrl Version 2.0 and quite simply, "Feel Your Feelings Fool" is the best album you're not listening to.
As is the nature of the column, John is always looking for new bands and musicians to write about. Please send in recommendations for artists to be included in this column to [email protected]
About the Writer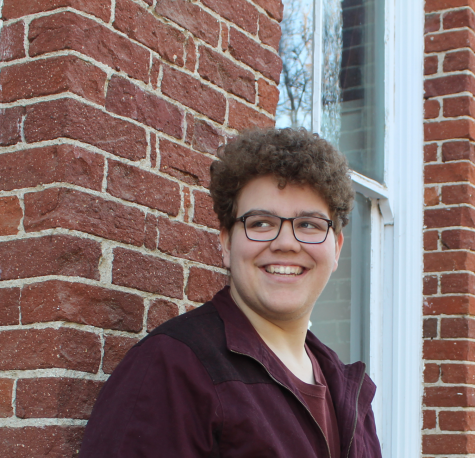 John Bruce, Entertainment Editor
John Bruce is a 19-year-old communications major writing for the Rampage as Entertainment editor. He was born and raised in Visalia, but recently moved...