Ronda Kelley Presents Body Temple at FCC During Black History Month
Story By: Tamika Rey, News Editor
February 27, 2019
"Man is the backbone, the Creator. God is everywhere and dwells in the body," Ronda Kelley, a Fresno City College art instructor said, about the "Body Temple," a presentation of art and wellness, Tuesday Feb. 12, 2019.
The event, held in the library conference room, was geared at giving a self-care perspective utilizing different aspects of expression such as art, as Kelley does.
"We come here in the flesh to workout life lessons in learning how to love through various experiences and situations," Kelley said. She discussed how an unexpected hospitalization helped her reach a new place within herself.
During that time, meditation and regeneration were Kelley's main focus. "If harmony is not happening, cells move towards the disease," Kelley said.
Kelley then led the audience in a breakdown of what the ankh means. The ankh is an Egyptian hieroglyphic symbol that represents the word for "life."
She explained how the head of the ankh represents the womb, "an inny; receiving and intuitive," and the shaft of the ankh is like the penis, "an outie; giving and logical." While the outward arms of the ankh are, "what's produced when the two come together," she said.
Kelley connected the ankh to the prevalence of the flower shape in nature, as seen when a zygote begins to divide. "It's like a universe within a grand universe," Kelley said.
Kelley had many different forms of art to display that were of her own work. One was called "Healing at Crossroads," which helped her deal with a bout of shingles she had in her left hand.
During this time she had a conscious awareness of food as a living entity and thus slowly became a practicing vegan. Kelley explains, it has made her feel much healthier and push towards a healthier body temple.
Professor Kehinde Solwazi, an African American studies instructor was among those in attendance. He found the artwork beautiful and felt she did a great job at the, "blending of the natural universe; [it's] like life itself."
Auguste Kouadio, also an African American studies professor asked Kelley her advice on,"How to reconcile this far removed presence of self?"
"Embrace yourself as much as possible… Look in the mirror, and kiss yourself," Kelley suggested. "The hot stuff is in your genes and you must remind yourself to love your reflection."
Jarred White, a sophomore kinesiology major was visibly moved by the presentation. "I'm thankful for it. This was something I really needed because I'm going through a lot."
Shardae Oliver, a sophomore business administration major was also able to take from the presentation. "It is very inspiring how you [Kelley] educate others using art. Your art is appreciated."
About the Contributor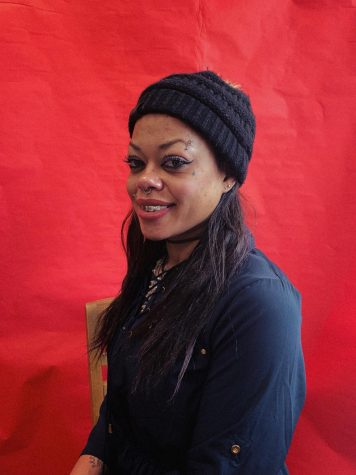 Tamika Rey, News Editor & Business Manager
Tamika Angie Rey is a 32-year-old second year college student who is striving to become a professional journalist. She is currently majoring in journalism...