Art Hop Brings Fun, Family and Excitement to Downtown Fresno
Food trucks lined the sidewalks of downtown Fresno with laughter, while artists filled the streets with art, music and dancers showcasing their work.
What started out as a few art galleries and museums exhibiting their work has now blossomed into a platform to celebrate all types of talent.
"At first it was very old and pretentious and the only people who could show art were in galleries and well known," said Elowyn Dickerson, who has been participating in Art Hop since she was 14. "Now, it has gotten a lot younger and more diverse."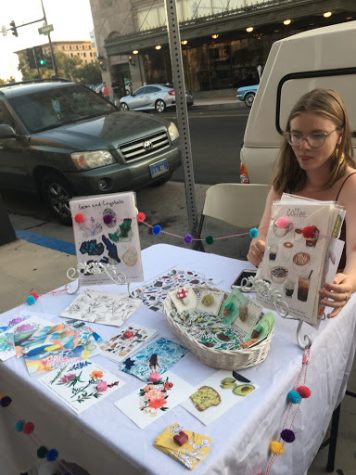 With her artwork, including prints and stickers, displayed on a small table in the corner, Dickerson (20) credits Art Hop for giving her the experience and confidence to become a better artist and businesswoman.
Art Hop offers more than just galleries and people selling their art on the street; many young dancers, singers and entrepreneurs use Art Hop and its popularity to network.
Singer Justus 'Juice' Wingfield collaborated with photographer and artist Aly Honoré who performed her first solo show at Broadway Studios, an art gallery with personal studios for artists.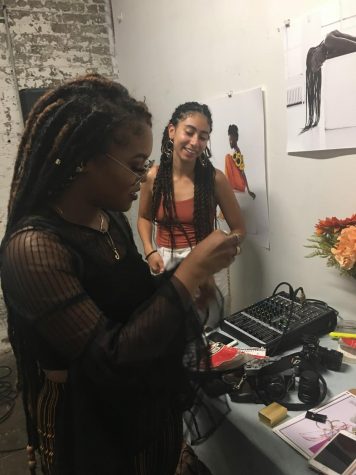 "The intersection of live music and art was a special experience. It meant a lot to be considered 'art' in relation to Honoré's art and Art Hop as a whole," Wingfield said.
Spencer Michaelson, president of Lost Cork Wine Co. is one of the many local entrepreneurs who recognized how Art Hop could publicize his brand.
"Art Hop is a good way to spread local to local," said Michaelson who set up wine tasting of a new canned wine called 'Buena Uvas' in The Root, a boutique that is open for Art Hop.
Shalae Lewis, another business owner, said she has seen a drastic change in her presence as a designer since she started participating in Art Hop a year ago.
"I have gained so many followers, so many friends," Lewis said. "I have been able to go to other venues just from meeting people out here."
Art Hop attracts all kinds of people regardless of age, gender or talent, everyone is welcome to be a part of the community twice a month on the first and third Thursday.
"I have never seen it [Art Hop] this busy, with this much dancing and street vendors and food trucks; it's about time," said Lorna Leslie, a friend of artist Sean Matthew Howard who showed his work at the Jeffrey Scott Agency, "This is life this is exciting; this is fun; this is family; this is art all rolled into one, and it's free."