'Avengers: Infinity War' Is Marvel's 10 Year Promise Kept
Hang on for a minute...we're trying to find some more stories you might like.
In 2008, Marvel Studios released "Iron Man," which gave audiences a grounded, yet thrilling origin story that ended up serving as the foundation for a groundbreaking franchise that the likes of Hollywood have never seen before.
Ten years and 18 films later, the Marvel Cinematic Universe (MCU)  finally reaches its culmination with "Avengers: Infinity War." The film brings the entire MCU together as Earth's Mightiest Heroes and the Guardians of the Galaxy must form an alliance to stop their biggest threat yet, Thanos (Josh Brolin) from finding all six infinity stones that will grant him the power to erase half of the universe's existence with the snap of his fingers.
Make no mistake about it. Directors Anthony and Joe Russo along with screenwriters Christopher Markus and Stephen McFeely have somehow achieved the impossible with "Avengers: Infinity War."
The MCU have previously established multiple heroes in their own standalone films before finally assembling them together in this epic crossover event that takes much of its inspiration from "The Infinity Gauntlet" comic. Given the audience's pre-established connections with characters such as Iron Man (Robert Downey Jr.), Thor (Chris Hemsworth), Hulk (Mark Ruffalo) and Captain America (Chris Evans) from the first two phases of the MCU, seeing these founding members of the Avengers pushed to their limits adds more emotional gravitas
But the founding Avengers roster aren't the only heroes to join in on the action. New additions such as the Guardians of the Galaxy, Doctor Strange (Benedict Cumberbatch), Spider-Man (Tom Holland) and of course, Black Panther (Chadwick Boseman) are also pushed to their limits as Thanos unleashes his existential threats to the entire universe.
But as exciting as it is to see new character interactions from numerous heroes who have never shared the screen together before, "Avengers: Infinity War" succeeds as a fascinating character study on the MCU's villain-to-end-all-villains in Thanos. Josh Brolin is demonstrably intimidating as the Mad Titan who wields the Infinity Gauntlet, and although his authoritative threat against our heroes has such a great presence on screen, Brolin also adds a certain depth to the film's antagonist that is surprisingly sympathetic. Thanos is so prominent throughout the film, one can argue that he is the true main character of this story.
"Avengers: Infinity War" is a miracle of a modern blockbuster, but it isn't without some minor faults. Given the nature of assembling all of these larger-than-life characters together in one epic film, it jumps from a couple of separate subplots that work to complement each other until it reaches the third act. The issue at hand when it comes to these separate subplots is how sometimes, the overall presentation can feel so epic, that one feels exhausted when watching it due to its bloated nature.
That's not to say the film's epic scale is a detriment to the cinematic experience. Given that most audiences seeing this film have seen most, if not all the films in the MCU, the lack of character development within these pre-established heroes is forgivable given Thanos' unique arc. It also helps that the film leads up to quite possibly the most incredible finale of any comic book film ever made. It's a finale that will certainly leave audiences breathless when the film cuts to credits.
"Avengers: Infinity War" is Marvel's decade-long promise kept. It pushes these beloved characters beyond what was expected of them and provides audiences with some of the most incredible superhero spectacle at the multiplex. Sure it may feel bloated at points, but the sheer joy of seeing this incredible franchise come into fruition in as epic fashion as this is worth it. Come for the spectacle, stay for Thanos.
Grade: A-

About the Writer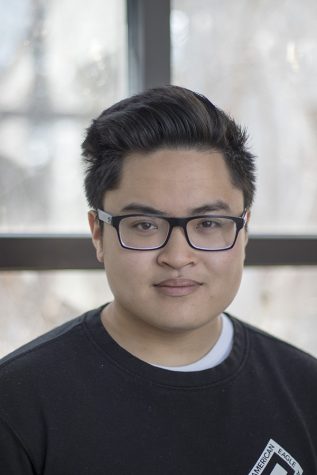 Noah Villaverde, Entertainment Editor
Noah Villaverde is a 21-year-old who currently resides in Fresno, California and is a Mass Communications and Journalism major at Fresno City College....