The Fight Life:Zoila Frausto Gurgel And The Uppercuts And Jabs of Being a Woman In MMA
As Zoila Frausto Gurgel prepares for the biggest fight of her career she watches as the men before her are awarded $100,000 oversized checks after each fight. When Gurgel steps into the ring and does the unthinkable and defeats the undefeated champion, Megumi Fujii, she is not greeted with the oversized check. Instead, her hand is lifted high by the referee and handed her newly won title belt as the reality of being a female in professional sports hits.
Since the day the former Fresno City College student and soccer player could walk, she was put into every sport imaginable.
The now professional MMA fighter competed in cross country, soccer and track. Gurgel's athleticism showed promise; the four-year varsity student looked destined for greatness. Regardless of the athletic success, Gurgel almost did not graduate high school after her grades started going down. 
"It was kind of a tricky road because my parents got a divorce my junior year, and then my senior year I just kind of turned into a bad kid," said Gurgel. "All the colleges that were actually looking at me turned away because I was getting into a lot of trouble. The only option that I had was to go to Fresno City."
Gurgel started to get into trouble during high school, even getting into a fight. A counselor at Madera High School sat down with Gurgel and helped her turn a corner and graduate on time.
"The counselor that I had was like, 'You've done so well your entire time here, freshman, sophomore, junior year. You're on your way to being a four-year varsity letterman, a GPA no lower than 3.8 the entire time you've been in high school, and you're throwing it all away. You're not gonna be able to go anywhere you want to go,'" said Gurgel.
When Gurgel arrived at FCC she quickly learned how to balance work, soccer practice and her first year of professional fighting all while still in school.
"I really don't know how I did it. It's all, it's all actually a blur now. I don't really remember sleeping," said Gurgel.
While juggling school and athletics. Gurgel stood at a crossroads. One path was to stay in school; the other was pursuing an MMA career. After some thought, Gurgel left FCC to pursue her MMA career full time.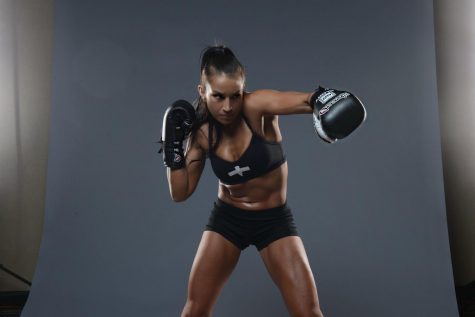 Entering a male-dominated sport, Gurgel was often looked down upon by her male peers. Gurgel was being battered with questions and comments like, "Are you doing this to get a boyfriend?"
"Because it's such a male-dominated sport, I was constantly being looked at by my male teammates," said Gurgel. "I've never been asked those questions in any other sport in my life that I had ever been a part [of]."
Growing up Gurgel wanted and commanded respect her entire life, not just as an athlete, but as a woman. Some of those questions echoed throughout Gurgel and became difficult to pass over.
"You know, I figured if I put in my time and if I worked twice as hard as a man- if I would do just as much, if not more- I would not only gain the respect of men, but I would gain the respect of everybody," said Gurgel.
Over the past several years Gurgel faced many trials, including two ACL injuries and a divorce. Despite the setbacks, Gurgel did what fighters do best: get back up and keep fighting.
"I feel like I still go on because I feel I inspire not just the people in and around my life and my family and friends, but I feel like I inspire people all over the world, said Gurgel. 
"That's what makes me want to be better every day, to see other people overcome their own demons and their own obstacles," said Gurgel. "If I feel like I can do that for just one person, I feel like what I'm doing as an athlete and as a person is as well worth it all."