Local Artist Pays Tribute To Kobe and Gianna Bryant
During Kobe Bryant's career, he was known by many names. The Black Mamba. Mr. 81. Champion. Neo. However, for local artist Oscar "Super" Huerta, the nickname that sticks out the most is "father".
Unlike other murals around the country that depict Bryant on the court, Huerta intentionally decided to paint a photo of Bryant and his daughter, Gianna.
"On the father's side of things, the news was even stronger. It was stronger than the times I would watch him and feel great to watch him play," said Huerta. "The father side of that is touching. Like, I chose not to paint him dunking on the court." 
Huerta has been doing art since he was about 7 years old and started painting when he was 12.
The passing of Bryant sent shockwaves across the nation and the planet. Bryant was just as big of an influence outside of the U.S.
"Kobe is everything to me, man. Ever since he [Bryant] got into the league, I was actually still living in the Philippines at the time and about a year or two into his career" said local Kobe fan David Lazo. "He came to the Philippines and instantly became loved."
Despite Fresno being almost four hours away from the Staple Center, Bryant still managed to reach a fanbase here in the Central Valley.
"I chose who he was at home. All the murals that I've seen so far have been him as an athlete," said Huerta. "I didn't want to paint him at work. I wanted to paint him how he is at home." 
Much like the greatest chefs require the sharpest knives and doctors need the finest tools, the artist also requires the best paint. Huerta and some of his friends made their way to Los Angeles to pick spray paint that is imported from European countries.
"I do whatever it takes to have what I need as far as that goes, because paint as itself has honestly escalated to the best delivery now. It's mural based paint made in Spain and Europe and other countries," he said.
The project took Huerta around 20 hours to complete. The finished piece can be found on the side of Fresno Tattoo & Body Piercing at the corner of Blackstone and Grant avenues, 1.5 miles south of Fresno City College.
About the Contributor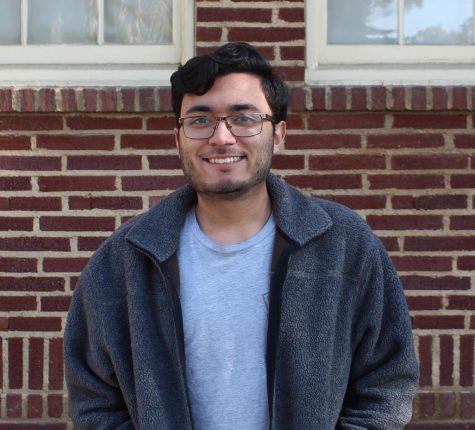 Moises Buitrago, Reporter
Moises Buitrago is a second-year student at the Rampage. Buitrago is currently majoring in journalism and is looking to transfer in the fall. During his...