Christian Chaney: Coming Into His Own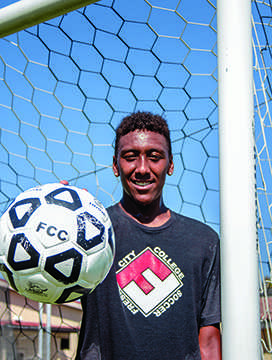 Christian Chaney, a defender for the Fresno City College men's soccer team, has come into his own as a player in these last two seasons as a Ram.
Chaney can be seen around campus, engaged with his friendsand just enjoying his everyday life.  On the soccer field, despite his slight frame, Chaney can be intimidating to opponents and a leader to his team.
He scored five goals with one assist last season, but his statistics does not show the whole story about his gifts and sportsmanship.
"Christian is a vocal leader for us," said head coach Eric Solberg. "He adds stability for us, and brings a presence on the field that makes him one of the better soccer players in California."
He started playing soccer at 7 years old, getting involved in the sport with his grandfather.
"I love the amazing things you can do on the field," said Chaney. "Soccer is one of the most amazing sports in the world."
He has been a leader for his team over the past two seasons. That leadership earned him a spot the 2013 NSCAA/Continental Tire Junior College All – American team, a surprise even to himself. "Christian leads the defense and has been a great player here for FCC," said Solberg
"I love what the sport has done for me," Chaney said. "It's taken to to some amazing places."
He played for the Fresno Fuego during the summer, alongside other talented local players from various schools that include UNLV, UC Berkeley and Fresno Pacific.
Chaney said he became a better player from playing club soccer; he played down in Yahualica Mexico for Club Deportivo Yahualica De Los Altos in the summer of 2012.
"Getting the experience of playing in a whole new country was one of the best things I've ever done," said Chaney.
One of the biggest challenges Chaney said he faced while in Mexico was, "Being away from home, my family, friends, and getting accustomed to new traditions."
He cherished the opportunity to play club soccer.  "I played for free because of amatuer rules," said Chaney. "If I would have taken money my college playing days would have been over."
Chaney credits men's coach Solberg with helping his players grow on the field, as well as off the field.   "He teaches me how to be a good person in general, take leadership and do everything to the best of my abilities," said Chaney
Chaney has enjoyed his last two years here and the friendships he has developed on the team.
"Playing with guys that I grew up playing with has been fun," Chaney said.  "I'm glad we're all here together."
Chaney's goal is to win state, then hopefully play college soccer if he doesn't end playing professionally whether it be Major League Soocer or overseas next year.
He  said,  "To become a great player you have to work hard on and off the field."
About the Writer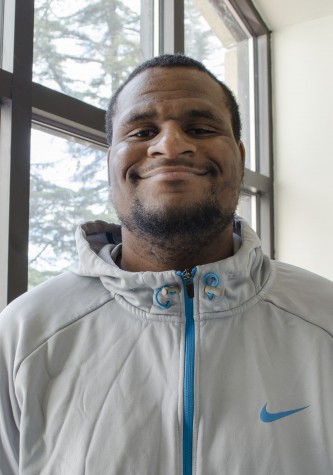 Keaundrey Clark, Sports Editor
Keaundrey is in his fifth semester at Fresno City College and at the Rampage. He's been the sports editor for a year. He was born January 10, 1993 and...