A Dog with a Job
Despite Their Importance, Service Dogs Remain Largely Misunderstood by Campus Community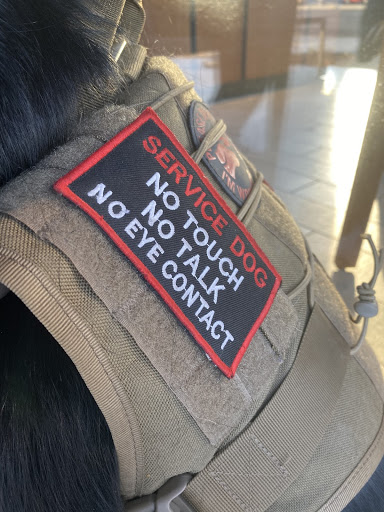 Two eyes, four legs, furry body and a wagging tail with a collar that reads 'Eevee', how can something this adorable have such an important duty? 
Freddy Matzuy has a heart condition where his heart could suddenly give out.
 But with his German Shepherd Eevee to the rescue, Matzuy has extra assurance.  
Eevee's job is to howl in order to grab surrounding attention in case Matzuy has an emergency. "If my heart gives out right now she'll start howling. My epipen is underneath her vest and all you have to do is pull it out, stab me in the thigh and call 911."
Not everyone understands that dogs can have jobs. Some professors understand, but Matzuy still struggles in class when he feels he has to justify to fellow students, teachers and other people on campus the presence and role that Eevee plays as his service animal.
Matzuy had a bad experience on Tuesday Jan. 14, during the first week of school, when he was approached by an individual on campus who wanted to pet Eevee but Matzuy was running late to class so he denied the individual permission and was met with vulgar terms.
"I have to handle it on my own. I feel like it's not something I should be doing because I should be trying to get myself away," said Matzuy on how he feels about having to defend himself in such hostile situations.
In a way, Matzuy feels Fresno City College does not accommodate all of his needs. One way is that some staff members do not understand the rules of the Americans with Disabilities Act which can make it harder on him. 
Eevee does a lot for Freddy but resources are still limited. Matzuy has to drive two hours to get his service dog and training protocols. 
That's why it's Matzuy's goal to take dogs from the Society for the Prevention of Cruelty to Animals, or SPCA and open up his own service dog business. He has also stated that it costs a pretty penny to own a service dog. They, "can cost between $15,000 to $30,000 excluding yearly expenses such as vet bills, dog food, and etc…," says the National Service Animal Registry.
Matzuy hopes to solve two problems with one solution by rescuing animals and helping those in dire need of a service dog. He wants to open up a service dog club on campus to further raise awareness.