Trump's DACA Decision Is Right but Unsettling
During the 2016 general election, the Trump campaign vowed to shake up the status quo of Washington. Sure enough, now Donald J. Trump is president, he is dismantling Obama era executive orders at a rapid pace.
One such executive order by Obama was the Deferred Action for Childhood Arrivals. Set up in 2012, the DACA program allowed certain minors who were brought into the United States illegally by their parents before June 15, 2007 to apply for work permit and a two-year protection from deportation.
Trump rescinded DACA in September 2017 and gave Congress until March 5, 2018 to pass a legislative equivalent. However, he did allow current DACA recipients a small window of 30 days to renew their status, without the possibility of an extension. As such, 22,000 DACA recipients whose status was going to expire between Sept. 5 and March 5 had failed to meet the renewal deadline, according to the Department of Homeland Security.  
While there are some who will easily say how heartless Trump is to leave 800,000 people in limbo until Congress can come up with satisfactory legislation, it is important to remember how the government works.
Congress is the only branch of government to decide on this issue. Trump should have waited for Congress to act before ending DACA so that recipients do not have to live with the uncertainty about their lives.  
As per article one of the Constitution, Congress has the legislative powers, not the executive branch.
This was a key point made by the Trump administration as to why DACA should end and be decided on by Congress, the legislative body.
I am a believer in the Constitution, so Trump's explanation of why he ended DACA is valid to me.
However, do the ends justify the means?
A stop at the Dream Center in the Old Administration Building gave me something else to consider with DACA. How does the issue of President Trump ending DACA affect the recipients attending Fresno City College?
About 650 DACA recipients are enrolled in Fresno City College from fall 2017 into spring of 2018, according to Dream Center adjunct counselor Erika Ramos.
The number of DACA recipients attending FCC is expected to rise, according to Wilfredo Felix Gamez, adjunct counselor.
"Now that we are providing services and we've been able to stay in contact with them [DACA recipients], our hope is for that number to grow," Gamez said.
The Dream Center is holding workshops to help educate students on DACA renewal.
"Our emphasis is about helping the student to be successful," Graciela Ramirez, lead counselor for the Dream Center, said.
As to if the deadline set by Trump will affect the Dream Center's functions, Gamez said, "It doesn't affect the educational services that we provide to the students."
When I think about DACA, I remember about 650 FCC students who rely on the program for their education and what the uncertainties would do to their futures.
About the Writer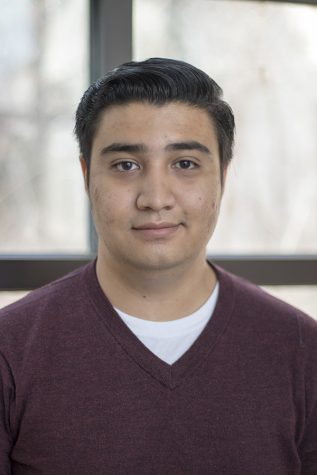 Andrew R. Leal, Reporter