Fresno City College Library Goes Digital During COVID-19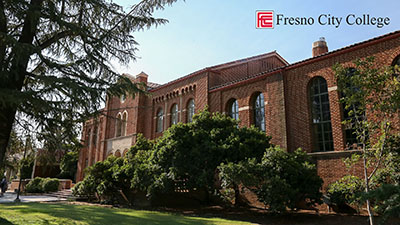 The Fresno City College library has gone digital during the pandemic and, in some cases, is functioning better than before, according to library employees. 
The library has managed to switch all of their in-person services to its website, including things like textbooks on reserve, library databases, and help from the FCC librarians. 
In order to help students in light of COVID-19, Donna Cooper, FCC dean of student success and learning worked with the director of technology, Jennifer Laval to acquire over 400 laptops, almost 1,000 iPads, and 450 WI-FI hotspots for student use. 
 Trying to get the devices out to students as quickly as possible involved a lot of work from Cooper and the other library staff. 
Cooper recounted the first week after FCC moved to online. Stating that they had to "invent new processes" in order to keep up with student needs, including tracking all of the new devices by hand. 
In October, the library reopened for students but by appointment only. This service is still available for students this semester. 
Appointments can last for up to 1 hour and 45 minutes. Students must remain masked and sanitize their hands while there. 
For more information regarding appointments, students should check out the library's web page on reopening policies. 
According to Cooper, students are taking advantage of the time. Some even have standing weekly appointments. 
The library has also employed a new chat feature to help students talk directly to librarians and get the help they need from home. 
Students are also taking advantage of the digital help, according to Cooper. 
In addition, Cooper and the library team have been working on expanding the library's databases and resources, having recently added access to the New York Times and the 1619 Project, as well as creating resource guides for students who need help with research papers. 
Will these things go away once students can come back to campus? Cooper says no. 
"And that for me is important, what we learned has been good for students, that's been helpful to students, let's keep those things, and still have what we get face to face for the students on campus who want to come in," she said. 
Most recently, FCC's library staff made an effort to reach students using other platforms like YouTube, Instagram, and Facebook. 
Linda Kobashigawa, a FCC librarian who also manages both the library's Facebook and YouTube, explained that trying to notify students of available services via email wasn't working like they had hoped. 
"We needed to move on to these platforms to reach more of our students who are our target audience, who are our primary user group, who we are here to serve," she said.  "And so we know that it's important to meet them where they are. And that is on social media platforms." 
Facebook gets more interaction from faculty, but Instagram is doing the job of informing students about the library like they had been hoping, according to Kobashigawa. 
In their most recent YouTube video, the library staff dressed up as Star Wars characters in order to inform students of the library's services during the pandemic. 
"We were trying to find ways to let students know that we do everything that we used to do in person, just now remotely," said Laurel Doud, another one of the FCC librarians and script writers for the video. 
Doud said they wanted the video to be "fun and silly," so that students wouldn't be intimidated about asking for help.  
According to the FCC Library website, reserve textbooks are still available and up to 10% of the book can be emailed to the student for their personal use. 
Other books can be requested from the library and picked up in person, following proper social distancing protocols.