Creek Fire – FCC Fire Academy Prepares Students for Future Fires
The Creek Fire began on Friday, Sept. 4 in the Sierra National Forest near Big Creek and Huntington Lake. Since then, the fire has grown to over 291,426 acres and has caused hundreds of evacuations throughout Fresno and Madera Counties.
On Tuesday, Sept. 22, the Creek Fire was officially recognized as the largest wildfire in California state history.
As of Friday, Sept. 25, only 36% of the blaze has been contained.
On Sept. 10, Carole Goldsmith, President of Fresno City College, sent out an email to students informing them of various resources available to help students affected by the Creek Fire. 
Goldsmith encouraged students affected by the Creek Fire to visit FCC's Ram Pantry to pick up food and take advantage of FCC's psychological services which holds talking circles for students.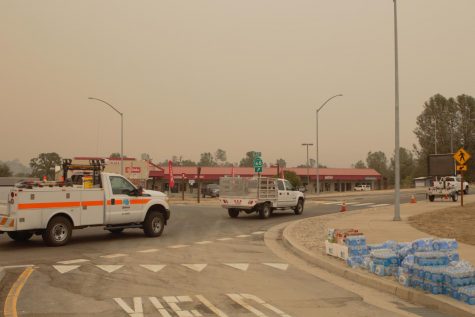 Most recently, the State Center Community College District announced that students are able to withdraw from courses due to COVID-19 or Creek Fire Evacuations. 
Withdrawals requested due to COVID-19 or fire evacuation will receive an EW mark. This mark does not impact grade point average, academic probation or dismissal, or the ability to repeat a course, according to the announcement that was sent to students via their student emails on Sept. 18. 
Students are advised to contact a counselor, financial aid, and/or program specialist, before withdrawing from a course. 
Peter Cascossa, the FCC Fire Academy Director, said Class 54 is volunteering with the Red Cross and at Clovis Hills Church on their time off. 
Although the FCC Fire Academy's students aren't directly involved with combating the creek fire, "This experience allows them to get a glimpse of what they will encounter during their career and see all of the logistical things that happen away from the fire that the community is doing to help those on the line," said Cascossa. 
Stella Velez, a FCC English major, was evacuated from her home in Auberry on September 7.
"My family is in a really good position," she said, "but there are a lot of people that might not have family in the area. They're losing jobs so they don't have any financial support." 
Velez feels strongly for everybody affected which is why she wants to stress the importance of donating to organizations like the Red Cross during these tough times.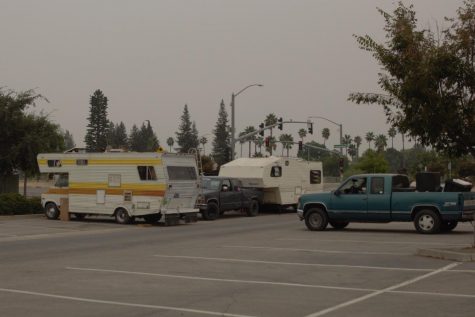 The Red Cross is offering help to victims being affected by the fires such as sheltering families, serving meals, and providing medical care for those in need.
The mountains in and around the Central Valley are no stranger to seasonal wildfires, but in the years leading up to this fire season, potential factors contributed to the strength and size of this particular fire. 
Velez being so passionate about these fires, over the
years, has given her insight about how they start. 
"There's several factors that led up to these fires. Infestation of Bark Beetles. Healthy trees can fight them off but with the heat and the drought the trees aren't healthy enough to fight back." 
Bark Beetles are known to target unhealthy or 'stressed' trees. They take advantage of weakened trees by intruding biosystems which prevents nutrients from advancing  from the trees leaves to the inner parts of said tree. 
Although Velez and many other authorities have ideas of what might have contributed to the fire, the actual cause of Creek Fire has yet to be identified.