FCC Honors Veterans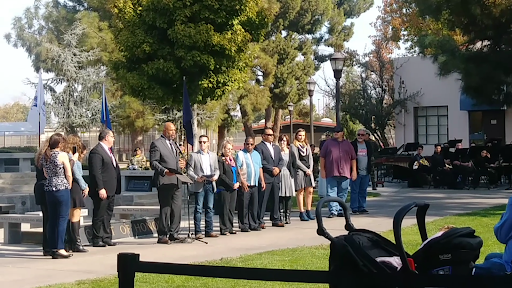 Memorial Veteran tribute wreath presentation during the Veteran's Ceremony on Friday, Nov. 2nd in front of the Fresno City College Peace Memorial.
There are times to honor those we've lost, but on Nov. 2 it was time to honor those who are still with us.
Veteran families gathered to hear the National Anthem and recognize service at the Veterans Ceremony in front of the Peace Memorial.
With the presenting of the colors, the ceremony opened up with the Pledge of Allegiance before quickly switching over to the National Anthem sung by Faten Myazne Kassabian, then  a prayer was opened up to thank and bless those who are still serving.
 Alicia Wilson, the FCC band director, guided the band into a well prepared piece while recognizing those in the crowd who have served.
Local Veterans presenting award to Mary Alfieris's family
Then Dr. Paul Parnell, Chancellor of the State Center Community College District, who was the keynote speaker gave a speech about the veterans and the loss of Mary Alfieris.
Mrs. Alfieris's family was asked to be a part of a standing recognition in which letters about their deceased family member was read to them. Mrs. Alfieris passed away Easter Sunday, April 1 this year. The Alfieris family received an award on their mother's behalf.
"We're greatly honored to be here," Steven Alfieris, the son of Mary, said, "and see the first class commemoration of my mom's commitment to Fresno City College, and what she meant to so many who work here and go to school here."
After the memory of Mrs. Alfieris, veteran families were asked to the front where they received recognition through pendants. This was followed by the FCC City Singers with "America the Beautiful."
Wreath Presentation with bagpipe solo
The American Legion 509 Guard then started a rifle salute to those who have fallen, which concluded the ceremony.
As Robert Pinentel says, "Our veterans need to know they are appreciated."