Block Party Empowers Southeast Fresno Community
Dozens turned out for MPWR Community Block Party, on Sept. 30, where MPWR's community organizers worked with the local neighborhood to paint a mural. Music, dancing, and games accompanied the event with free food catered by local food truck El Gordo's Hotdogs.
Founded in 2017 by the Fresno County Voter Coalition, Mas People Working Relentlessly or MPWR, pronounced "empower", was created as a one year voter program to increase youth political engagement and to cultivate a group of young community organizers.
Over the course of a year, MPWR registered over 700 people to vote, connected over 1000 students to network opportunities, and conducted research on youth political engagement strategies.
One of MPWR's research projects involved understanding what type of events would get young people involved in their community. They found art projects were the best way to get the youth involved.
According to head of MPWR and former Fresno City College student, Alex Ramos- O'Casey, "We chose this lot for the mural and party, because there's always swap meets and food trucks here, so it made sense for it to be the focal point of building community engagement."
"We canvassed the neighborhood and we quickly found what people didn't like about the neighborhood was that they didn't even know their neighbors," said MPWR member Valeria Rodriguez.
"For the mural, we asked the neighborhood around the lot what they wanted to see, said Ramos-O'Casey. "We then asked what should the theme of the mural be and they said, community."
MPWR then took those ideas and employed the talents of local artist, Abigail Janzen, to sketch out the mural.
For the sketch, Janzen combined the disparate elements the community wanted into a collage. "So we've got, stray cats and dogs, elote men, taco trucks, Hmong textiles to represent our Hmong population, and even papel picado a type of Mexican decoration."
"I wanted the mural to be super bright but accessible for people to join in and paint, so I didn't make the mural super detailed," says Janzen.
Though this is the last event for MPWR, this isn't the end for its organizers nor is the end for the community. "All of our members are still organizing communities."
About the Contributor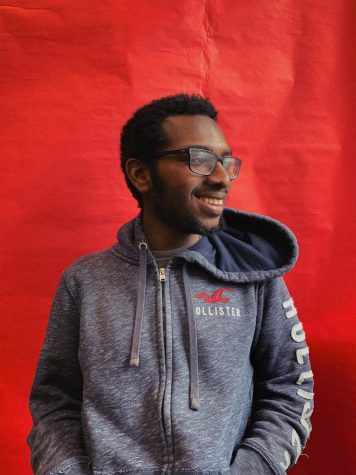 Blake Evans, Reporter
Blake Evans was born on June 24, 1999 and is an English major and aspiring journalist. He hopes to go into investigative journalism and uncover the next...