FCC Students React to a Future Smoke-Free Campus
Hang on for a minute...we're trying to find some more stories you might like.
Fresno City College students are speaking out about their school becoming a smoke free campus.
"Everyone's different, let them have their vices," said brothers, Derek and Scott Bullis who frequently use the smoking areas to "relieve stress."
In January of 2015 FCC designated eight areas around the campus for smoking, the main and largest smoking area located in the middle of the campus is home to many FCC smokers.
"I'm not surprised, I could see it happening with all the trash that's left behind. Whatever's best for the campus .. may not like it but I support it," said Ben Lopez a FCC student who is making his second attempt at college this semester.
What do the non-smokers have to say? Will it make a difference in their everyday lives on campus?
"Clean air? Yes please!" said Kenneth Jimenez, a film major and nonsmoker in his third year at FCC.
"I can't wait for this to happen," said Jocelyn Betancourt, a nonsmoker and a child development major starting her third year at FCC. "I hate walking past the smoking area and it's cluttered with cigarette butts."
FCC will become a smoke free campus in compliance with the Board of Governors ruling from May, 2018. The new policy will take effect in the next 90 days according to FCC president Carol Goldsmith.

About the Writer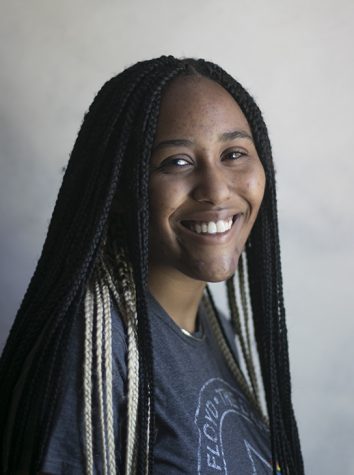 Toni Woodruff, Reporter
Toni Woodruff is a 19-year-old journalism and communications major at Fresno City College. She was born and raised in Fresno. She graduated from Edison High School in 2016 where she was involved in sports and leadership.
Amongst her many passions, Toni has found herself most at home when writing, especially poetry. She has competed in and won many local poetry slams and was given the opportunity to say an original piece at her graduation, baccalaureate and various Black Student Union events. Toni also spends a considerable amount of time writing short stories that often dismantle stereotypes and stigmas that she is faced with through playful and humorous but serious fiction.
Toni is in place to transfer from Fresno City College in the fall of 2020. She has hopes of going to either San Francisco State University or another university on the east coast. Toni will be going into the public relations field, she shows interest in crisis communications as well as social media management.
Over the years, Toni has had ideas and rudimentary plans on a television series she hopes to one day make come to life. She shows immense concern about the type of representation teens and young adults from all different identities are being exposed to and what stereotypes those media outlets might be pushing instead of challenging.