Local Women Celebrated for Service to Community
Fresno City's District 1 held the fourth annual "Women Leading the Way" reception in honor of Women's History Month at the Fresno City College cafeteria on March 17.
"Today is a special day as we highlight the stories of our local women in our community contributing in positive ways," Fresno City Council President, Esmeralda Soria, said.
Socorro Pelayo, Shimeka Conway, Tammy Rinkenberger, Sophie Jimenez, Susan Kodama, Adela Ruacho, Courtney Sorensen, Carmen Romero, and Alexandria Knudsen-Thornton  were honored.
The women were selected through an application process in which friends, family, neighbors, or colleagues submit nominations for community engagement/advocacy, education, health and wellness, youth (18-22), arts and culture, and public safety/military.
The luncheon began at noon with about 100 people in attendance. Soria delivered the opening speech, and told the audience that as the first Latina city council president, she hopes to be an example for women.
"I want to make sure that the young women here in this room know that this achievement is possible," Soria said. "I hope that we can all continue to empower young women to take on leadership roles so that I am not the only one."
Socorro Pelayo, 65, bus driver for over 30 years, received the women of the year award for stopping the attempted rape of a 16-year-old girl last February.
Congressman Jim Costa, who attended, congratulated honorees and helped hand out certificates and plaques along with Soria.
"I've always found out in my experience that if you get good strong women to work with you, you alway succeed," Costa told the crowd.
Soria created the event four years ago as a way to highlight the contributions of local women in the District 1 area, which is composed of the Tower District, Fresno High School, Lions Park neighborhoods, and west of Highway 99.
"I thought, four years ago, how should we celebrate women's history month?" Soria said. "When we think about women's history, we think about iconic women like Rosa Parks, Amelia Earhart — women that have made history."
She added that there are women "in our community that are making history and so let's see how we can recognize them."
Carmen Romero was the last woman to be honored for her extensive contributions in community advocacy throughout her lifetime.
She's served as an instructor for social workers at the Central California Training Academy and a Commissioner for the Economic Opportunities Commission, and organized a valley-wide community response to the Immigration Reform and Control Act of 1986, just to name a few of her endeavors.
"I wouldn't be here without the support and work of women who came before me, including my mom," Romero told the crowd. "Each of us has a story; we have an obligation and a responsibility to tell that story for the younger generation coming in behind us."
About the Photographer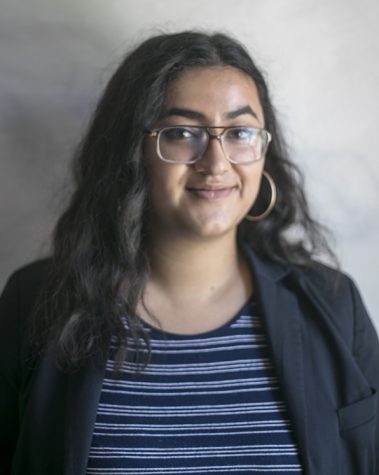 Paulina Rodriguez, Reporter
Paulina Rodríguez is a 21-year-old journalism major attending Fresno City College. She grew up in Chavinda, Michoacán, Mexico and immigrated to the United...