Fresno Marchers Gather in Celebration of Martin Luther King Jr.'s Legacy
Hang on for a minute...we're trying to find some more stories you might like.
Hundreds of people, including the Fresno City College president, marched through downtown Fresno on Jan. 15, amidst frigid conditions for the 34th annual Martin Luther King Jr. remembrance march.
The event was organized by the Martin Luther King Unity committee, and included a special performance from a dance group from King Elementary School.
Participants gathered at St. John's Cathedral, and sang "We Shall Overcome" as they made their way over to Fresno City Hall. Speakers used Martin Luther King's legacy to remind gatherers of the immense amount of work, and courage needed to fulfill King's dream.
Fresno City college president Carole Goldsmith spoke at the march and decided to deviate from King's famous "I Have a Dream" speech. Instead, she highlighted King's fight against poverty, housing segregation and educational inequality.
Goldsmith placed an emphasis on King's nonviolent approach towards civil disobedience.
She celebrated King's ability to include people from different backgrounds into the civil rights dialogue.
Fresno City Council Member Oliver Baines said he would do away with political correctness as he addressed the crowd. He denounced President Trump, and urged Republicans to stand against him.
Baines highlighted another civil rights leader in his speech – Rosa Parks. "In 1955 Rosa Park sat down," Baines said, "In 2018, we got to stand up."
Baines encouraged the crowd to stand up for undocumented immigrants, the LGBTQ community, and against racial injustice, which sparked cheers from the crowd.
Other notable speakers included Rep. Jim Costa, police chief Jerry Dyer, and State Center Community College District trustee Eric Payne.
They all echoed the same sentiment; the work is not over.

About the Photographer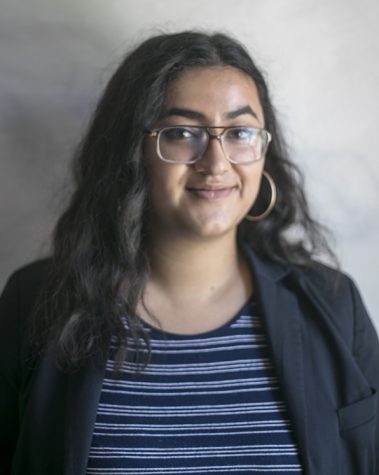 Paulina Rodriguez, Reporter
Paulina Rodríguez is a 21-year-old journalism major attending Fresno City College. She grew up in Chavinda, Michoacán, Mexico and immigrated to the United States when she was 9 years old. She is a queer woman of color, with interests in politics, art, public speaking, music, and poetry.
Paulina attended Sunnyside High where she was a member of the Video Production Academy. It was here where she was first introduced to reporting. This is Paulina's third semester at Fresno City, and first semester as News editor for the Rampage. She studied Molecular Biology and Physiology at CSU Long Beach for three years.
During her junior year of college, she discovered Maya Angelou, and a newfound passion for writing. Paulina aims to diversify her interests, by covering a wide array of topics throughout her time at The Rampage.
Her personal mantra is "I am a human being, nothing human can be alien to me." Paulina decided to pursue a degree in Journalism because she has an insatiable desire to understand the world around her. She plans to transfer to Fresno State to obtain her Bachelor's in Mass Communications and Journalism with an emphasis in multimedia.
Paulina's career aspirations are varied. Her regular attendance at concerts and music festivals has instilled in her a desire to combine her passion of music with journalism. She wants to dabble in radio, public relations, TV, and news. She is interested in learning to create her own content, and having a show of her own one day.
Paulina can be contacted a [email protected]