Veterans' Memorial Honors Wounded Warrior Project
More stories from Payton Hartung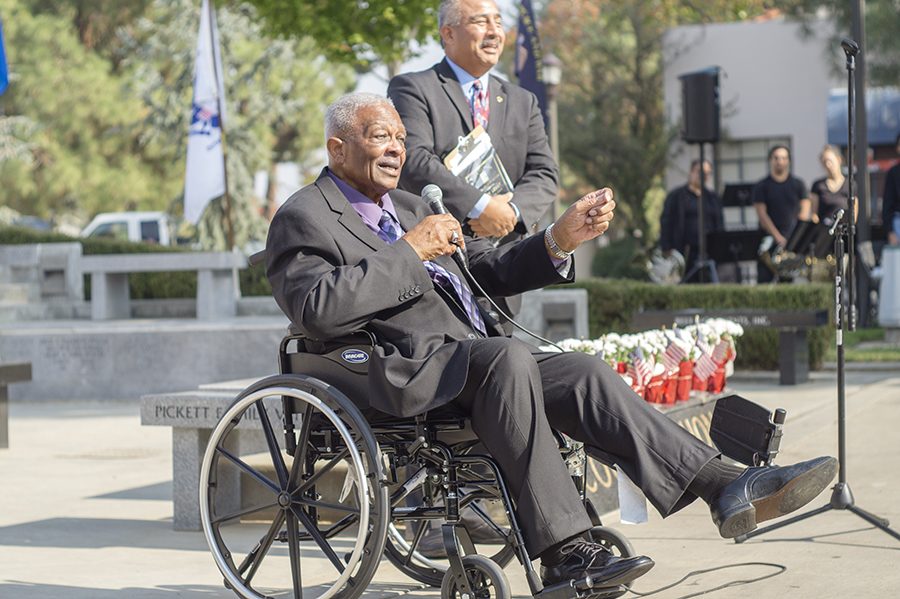 Fresno City College honored the service of veterans at the Veterans' Peace Memorial on Nov. 4.
The ceremony started with a moment of silence and an address from FCC president Carole Goldsmith.
"It is an incredible honor to be able to welcome you to our college. I welcome you from the bottom of my heart," Goldsmith said. "I thank you for your service and I thank you for being here today."
The memorial service honored veterans, mourned fallen soldiers and remembered the sacrifices of service members. The event emphasized the importance of the Wounded Warrior Project.
"In this great nation, it is because of our military men and women that protect institutions like ours. To protect the constitution, our rights, and our freedoms," Goldsmith said.
After recognizing all individual branches of the U.S. military, the keynote speaker, Jeremiah Pauley, a combat-wounded veteran of the Iraq war, took the stage to give his personal story.
According to Pauly, he was severely wounded by a roadside bomb in Talifar, Iraq on April 8, 2006. Despite his severe injuries, his compassion and focus were toward his comrade, Jody W. Missildine, who died from that explosion.
"He was 19 years old, and he was one of my soldiers," Pauly explained. "He was one of the men that I promised I would help protect. For so long I thought his death was all my fault.
He continued with how he has tried to keep Missildine's memory alive.  
"Every day I wear this bracelet. It bears his name and I never take it off," Pauly said. "I do it to honor his memory, for his family and to serve as a constant reminder to me to always live."
Pauly explained how he became one of the estimated 400,000 U.S. veterans to suffer from post-traumatic stress disorder from the wars in Iraq and Afghanistan. He talked about overcoming PTSD, his divorce and losing hope and contemplating suicide. Pauly said that the Wounded Warrior Project helped him defeat his challenges by reaching out to him.
The logo of Wounded Warrior Project depicts one warrior carrying another warrior and moving forward.
"I was physically carried off the battlefield years ago in Iraq, but the Wounded Warrior Project brought me home emotionally," said Pauly. "I was the warrior on top of our logo. Now I have the incredible opportunity to be the warrior on the bottom of our logo; to reach out and help bring my fellow brothers and sisters home."
The 2016 Citizen Soldier Award was presented to Henry Lemay who served the United States in the Korean war. Lemay accepted the award and sang "God Bless America."
FCC faculty and trustees presented pins to all of the veterans who were present. The event ended with the presentation of decorated wreaths and a three-volley rifle salute. The FCC band provided nationalistic music, filling the event with patriotism.
About the Contributor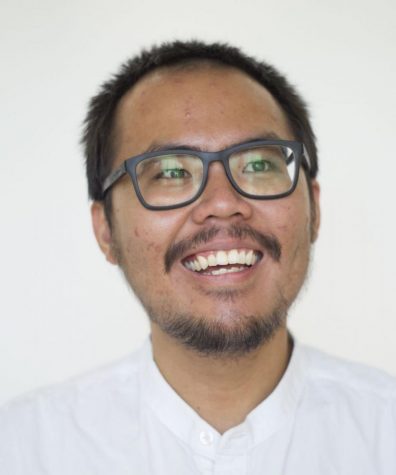 Ram Reyes, Art Director
Ramuel Reyes is a 23-year-old, currently living in Fresno, California. He was born in Lucena City, Philippines. After living five years in the United Arab...