The Power of Two: Julie & Mike Dana [VIDEO]
The hot April sun bore down as Mike and Julie Dana — husband and wife, who also happen to be teaching in the music department at Fresno City College — arrived for their interview.
The two settle, hand-in-hand, underneath the shade of a tree as quiet background music began to play – nothing could be more fitting than the soothing acoustic of a guitar — how seamlessly the music fits into the topic of conversation: the power of two and the power of music.
In the interview that ensued, the Danas, who have known each other for 17 years and married for 13 years, spoke about their close bond, their mutual love for music, their take on today's music and their advice for couples who hope to work together or are already working together in the same workplace.
Julie and Mike Dana's first meeting is the plot of a romantic film. Mike was the new department chair of music at FCC and was interviewing for a new choral Director – cue the arrival of Julie.
Julie was the first person Mike interviewed for the job. Mike says she was a shoo-in, despite the early morning interview and how tired she was on top of that. The two then began to work together, and the relationship grew from there.
"I don't remember meeting him because I was too nervous about the interview, honestly," Julie jokes. They fell in love soon after starting to work together, but the two remained careful to avoid misunderstandings at the workplace. This did not stop Mike from setting up a first date between the two.
"I remember our first date, I asked her to go to the Philharmonic concert because I thought, if it worked out, then it would be a date," Mike said. "If it didn't, then it's just two people who work together going to a concert."
Julie said she was not sure if the night was an actual date or if Mike was just showing her the Fresno Philharmonic. Mike added that he liked to keep the mystery. Later in the date, the two discovered one more thing they had in common, other than their shared love for music.
"We went for dinner at the Daily Planet, back when the Daily Planet was still there, and he got out of the car and asked me if this name meant anything to me," Julie said. "It was a really dear friend of mine from high school that he [Mike] met in college as music majors and they were really super good friends."
This mutual friend would later become Mike's best man at their wedding. This discovery of a mutual friend helped ease whatever concerns both had and they quickly became comfortable around each other.
Anyone who knows the Danas know they share an immense love for music. The question, however, is if their music tastes align. Julie said that while Mike's background is in Jazz, hers is in choral, but that over the span of their 17 years together, their music tastes have merged.
"We each expanded each other's listening and perspectives," Mike said. Julie added that the two made compilation CDs of their favorite music for a trip. She also took a Jazz Theory class along with Jazz Piano in order to further her knowledge of the genre. The two now team-teach a vocal jazz group at Fresno City College.
Even though Julie is not the biggest fan of punk rock, she accompanied Mike to a friend's punk rock concert. She believes in trying out new music genres instead of dismissing them right off the bat.
"We're trying to teach our students to have this passion for something that I have passion for for," she said. "You've got to step into all the different worlds to experience it. It may not be something I want to do all the time, but at least I have gone there instead of saying, 'I don't like punk rock, bleh'."
In the midst of talking about music, Julie described how the events of Sept. 11, 2001 ushered Mike into her choral world. She had taken her City Singers to New York in May of 2001, and one of her student's uncle happened to be working at the World Trade Center. Thankfully, he was unscathed, but the emotions of that moment led Mike to a decision.
"He did this really beautiful arrangement of 'America the Beautiful' for the City singers, and we have done it quite a bit," Julie said. "He kind of stepped into our world to kind of express those emotions that we were all kind of dealing with."
Mike and Julie broached the subject of contemporary music. Julie watches "The Voice" religiously and spoke her appreciation for Lady Gaga, despite not being her biggest fan.
"She [Lady Gaga] is a brilliant woman. I think she is a really amazing example for women," Julie said. "'It's a man's world' and that if you can, if you use your brain, and you go for it, look what can happen."
Despite acknowledging some great talent in today's music, Mike and Julie said they prefer artists such as Paul McCartney and artists similar to him.
"We just went to see Paul McCartney, and I think that, that's from our era, and yet you look at the music and how long that music has lasted, and for me, an artist, that makes an impact," Julie said. "You're going to be singing that music forever."
Julie explained that the music industry is more competitive today than it used to be.
Mike said Julie and he like honest music — music that stems from your heart and soul.
"I think the main thing is that anybody who creates music not to be commercially successful, but because that's honestly what they are passionate about; I think you have to respect that," said Mike.
Working together goes along with creative differences; both Mike and Julie agree they have little or no conflict because they understand each other so well. Whether it is extra rehearsals or being worn out from a long day, both understand each other's emotions and thoughts quite well — because they have worked the same schedules and know the stress that comes with it.
They handle any type of conflict in a very mature manner and say their students have noticed and told them they not only appreciate them as individuals but appreciate them for setting an example of what marriage should be like.
The two agree that Mike is "the funny one" and Julie is "the straight man", pretty much confirming how the two balance each other out.
Julie and Mike stated there are no negatives to working together. Rather, all they see are major positives — the ability to learn from each other.
As far as the vocal jazz group goes, Mike says he feels pretty confident in his ability to teach Jazz performance to students, but because he is not a vocalist, he is not confident in vowel placement and vocal instrument. It's here, in his not strong areas, that Julie steps in. It is her area of expertise, and Mike gains confidence in Julie's presence and in her knowledge and power.
They say they continue to learn from one another and seek counsel from each other when one needs guidance.
"If you have an on-going give-and-take relationship with somebody, then it's like you don't have to win every discussion and it's not like, 'I have to win, and you have to lose' and vice versa," Mike said. "We both want to have a good sounding product and a good concert/festival performance or whatever we do."
A big part of Mike and Julie's worlds are their students, who are family to them. The couple frequently has BBQ's and get-togethers at their home where their students are comfortable enough and at home. Mike joked that some students do not hesitate to head straight for their fridge the minute they enter the house.
One of the most significant discussions of the interview was what advice the couple would give to other couples who work together or wish to work together in the future.
"Remember to get each other's back. You know they've got your back, you need to get their back," Julie said. "Sometimes that means it's inconvenient for you because you're working on this and this and this."
Mike echoed, "You don't have to win. It's not a competitive situation, and don't keep score."
About the Contributors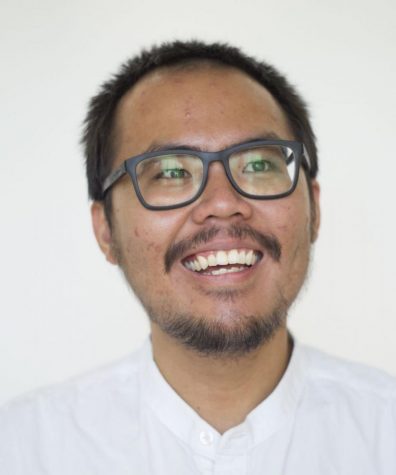 Ram Reyes, Art Director
Ramuel Reyes is a 23-year-old, currently living in Fresno, California. He was born in Lucena City, Philippines. After living five years in the United Arab...