DSP&S Nurtures, Encourages Ability Awareness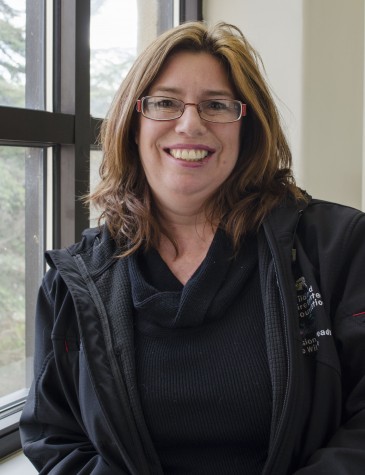 More stories from Tammi Nott
Imagine the tranquility of the botanical and presidential gardens, the inspiring music interpreted by a deaf choir, or the elegant dance moves by a dancer who is deaf and cannot hear the music.
These are reality at Fresno City College where the students in the Disabled Students Programs and Services are living their dreams and inspiring the community not just locally, but globally.
Every day, Janice Emerzian, director of DSP&S in the State Center Community District, works hard to connect the students she serves with both the community at large to provide exciting and innovative ways to transform their lives.  
Likewise, Christine Bise, district-wide sign language interpreter coordinator, and Jerry Hentzler, adaptive ornamental horticulture instructor, are committed to providing meaningful real world opportunities to help students make their dreams a reality.
Hentzler rewards his students who want to pursue careers in horticulture.  He remembers students he has placed in local nurseries, and one who was able to start her own business taking care of container gardens.
"Anyone can get a lawn person, but not everyone can get a lawn person that knows about bedding plants and taking care of containers.  That's her specialty.  She has clients in Fig Garden and other areas, that can pay her well."  said Hentzler.
Emerzian, Bise, Hentzler and others in the DSP&S office at Fresno City College focus on students' abilities while guiding them to reach their ambitions. The office provides tools that create access to educational and vocational opportunities for the students.
And DSP&S students are achieving amazing goals.
On Disability Day which was also the college showcase day, students displayed their green thumbs through the Adaptive Ornamental Horticulture Program which is an integral part of DSP&S.  
As part of their class curriculum, these students learn horticulture and business skills. The program markets its own brand of inspiration by offering their beautiful plants for sale to the public.
Jerry Hentzler and his talented student horticulturists are responsible for the beautiful botanical gardens tucked away next to the math and science building, as well as the presidential rose garden in front of the Old Administration Building.
Hentzler said that an important part of the growth of a student can be seeing the fruits of their labor.
"Roses are really forgiving to students anxious about making cuts, especially when we do the once-a-year winter pruning in January, and we cut the roses down to around our knees," Hentzler said. "They [student horticulturists] think they will ruin the roses, and they don't.  When we come back two months later [and see the new growth] it is the proof that they didn't."
Students learn about teamwork and time management by propagating, nurturing, merchandising, pricing, and selling beautifully grown plant life.  All students can purchase plants for their vegetable and ornamental gardens at the green houses.    
Students are encouraged in their individual programs and grow their futures through education and life experiences made possible through FCC.  The goal is to give students with disabilities equal access to opportunities that they might not have had any other way.
Bise, coordinator of the language interpreter program, said she works with other staff, students and community members to give students with disabilities opportunities to perform and showcase their talents annually at Disability Awareness Day which has run in conjunction with Fresno City College's Annual Showcase for over 20 years.
The Showcase is an open house type event which attracts the community, incoming high school seniors and current students to experience the college through hands-on activities, and see the benefits of being a part of the FCC Community.
"Events like this [Disability Awareness Day] help awaken our senses and heighten our awareness," Bise said.
Disability Awareness Day brings people together to raise awareness about all of the possibilities that exist when a community encourages and embraces students' dreams.
Each year, crowds gather to appreciate the diverse talents displayed by CC students. This year's talented performers included visual artists, singers and dancers from around the Fresno community.
True Colors American Sign Language Choir from the Adult Transition Program at Fresno County Office of Education, enthusiastically signed the words to the song 'Best Day of My Life' by American Authors.  
Break the Barriers, an international performance group "pioneering the world of Inclusion," demonstrated a beautifully, talented dance performance. 
Fresno City Dancers including dancers, He Guiping, Alex Ortiz, Summer Thepmany and Sofia Velasquez displayed the skills taught and perfected here in FCC's dance program.
Lisa Rankin a singer songwriter, and Doc Lewis, a local singer, radio host and author, both sang musical numbers, and shared their individual stories of triumphing over adversities.
From Deaf Expressions, Ariana Bibb performed a visual piece in ASL, and Tracy Weber presented an ASL translated and choreographed song.  Deaf Expressions will also be performing on April 29 at 6 p.m. in the FCC Theater in the Theater Arts Building.
Each student, encouraged in their individual programs, are growing their futures through education and life experiences made possible through Fresno City College.
"A lot of people think that things are endlessly impossible; in my experience there are endless possibilities," Bise said. "I would encourage students, staff, faculty, and administration to continue to be aware of fair and equitable access… to remember that focusing on what people can do instead of what they can't do is very important."