International Women's Day Marked at Fresno City College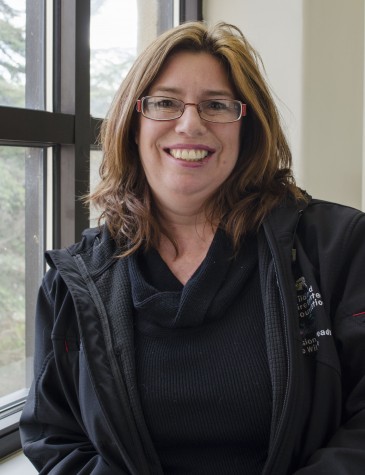 More stories from Tammi Nott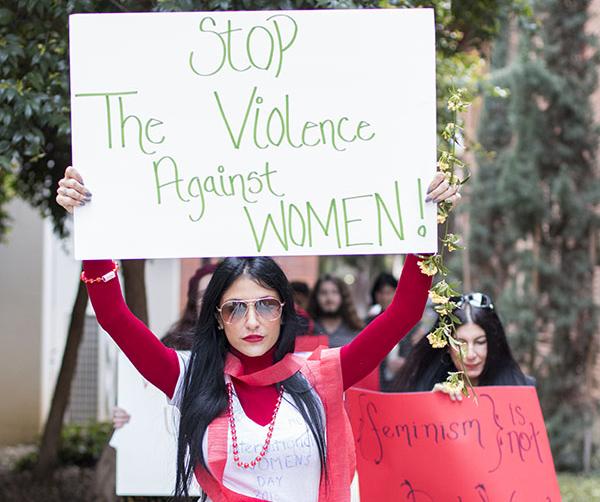 Jennifer Dorian, director of Peer Assisted Student Sessions, led a march for women's awareness from the Fresno City College Library to the Free Speech area in honor of the 105th anniversary of International Women's Day on March 8.
The group walked through campus voicing empowering messages and upon reaching the free speech area, invited others to join the march to express their thoughts on the status of women in society.
"The more men and women we have standing in unity, the better," Dorian said.
A diverse group of men, women and transgender individuals draped in red streamers held signs as they expressed outrage about the abuse and oppression that women experience, even in 2016. Students spoke out about various topics, from abuse to rigid gender roles.
Dorian cited statistics which showed that one in every three women is abused and one in every five women is raped. When the group was asked how many of them had been a victim of violence, all but one woman raised their hands.
"We need to stop the blaming. When a woman is attacked, the woman is blamed for it. Not the perpetrator," said Kelly Campbell-McKay, a student. "We need to blame the people that are acting on the violence, not the people who are the victims of it."
The idea of women gathering to call for equal rights can be traced back to 1908, when a group of 15,000 women marched through the streets of New York to demand better pay, better hours and voting rights.
The first official women's day was celebrated on March 19, 1911, following the lead of the U.S. National Women's Day celebration in 1910.
In 1913, the date was changed to March 8, and that day has been celebrated every year on that date since then. In 1975, the U.N. officially acknowledged the day, and has celebrated it ever since.
The march prompted one student to ask if there is a feminist group on campus. Dorian responded that there is not one yet, but that one is in the works.
Dorian is proposing an open mic, community event for the end of April called "Listen, the Story of Every Woman." She is planning on five speakers and wants to include a candlelight ceremony that will recognize women from the past, present and future.
"It is 2016. There has never been a better time, that I am aware of, to be a woman," Dorian said. "We can't rest on our laurels. Women in the 60's and 70's fought for us to be here today. We want to make sure that we never forget where we come from."