Q & A with Vice President of Student Services
Q. What is the role of student  services in increasing enrollment and classes?
A. "We do have a college relations department and they go out to high schools and they work with local community agencies so what they do is they're out in the local community, they get more students to apply, generate more applications for the college and then they also do a lot of work in relation to getting students to transition from the high school to the college. So we have a lot of work associated with the project that we've had in place for many years which is registration to go. We help students on site, at the high schools, with the application to the college. We help them with testing, we also do testing on site. We also help them with advising; we do pre-advising so that they can complete an SEP before they come in."
Q. How far do your services reach?
A. "Our service area includes Fresno County and portions of Kings and Tulare county. We cover most, if not all, the schools. We also work with community agencies. We're also out recruiting or marketing the college with people who are out of work, people who want to come back to school who are not in high school.
Q. How are the enrollment numbers now compared to how they were last year?
A. "They fluctuate day to day. What happens is we get reports where we determine based on the day, like today is Sept. 26, 2014, we could do a snapshot compared to Sept. 26, 2013 and see if we're up or down.
In general, for the last few weeks, we've been consistently slightly down. Part of the reason I think that, not only our college, but many colleges, many of the 112 colleges in the state are experiencing challenges to sustain or increase enrollment rates is because our economy.
The unemployment rates have been lower now compared to several years ago. If you look at the unemployment rate in fresno county was around 16 percent three or four years ago. Its gone down to about 10 or 11 percent.
So when unemployment goes down, then people are employed and their less likely to attend a community college.
Q. How many students do you actually plan to enroll?
A. There is a target of what we call FTE, Full Time Equivalent student. A full time equivalent student is not one student, its the equivalent of one full time student. And the equivalent to a full time student is considered to be a student who has a full load of 15 units per semester.
So there are certain targeted number of FTEs that we've established for the district and for each of the colleges in the district.
Q. How confident are you that these efforts will pay off?
A. "We're confident that we're going to make an impact in increasing enrollment. It's not just about increasing enrollment, this is about student access. This is about making sure that every person in our community has knowledge, has the ability to, if they so choose, to register for classes at our college. So while the focus might be on enrollment, its also on access.
We want to make sure every person in the community is fully aware that we provide and educational opportunity for them."
Q. Is there a plan in place in case those numbers are not able to be met?
A. "We have a recruitment plan in place that relies heavily on our registration to go project. We already have in place a process in which we go out to the high schools, we have staff go out, working local administrators, counselors, teachers and really trying to get as many students from our local high schools to, not just apply, but to finish the registration process, to apply, to get tested, to get advised to do the online orientation and then to register. So we have a system in place already now, but we're going to do more because we want to maximize our enrollment.
We want to get as many people as possible enrolled here. So what we are doing now is we are going to be more aggressive in recruiting students at the local high schools. We're going to put more staff out at the schools and especially we are going to work on improving what we call our show rate. Our show rate is the percentage of students who actually register, who actually enroll."
Q. What will you do to improve the show rate?
A.
"We already have a few things we do. After an incoming student registers, particularly for fall, we have a project called Ram Ready where we invite students who already registered to come in the summer for an extended of one day orientation, and typically that's done with their parents.
We also have another project which involves students who have applied but havnt finished the registration process.
We have another project that is called extreme registration for those students. We did at least two of those this past summer. We will do those again this coming summer.
Q. Will you be increasing the number of faculty?
A. We have a proposal to increase staff and we're fortunate to have increased funding from the state through two funding sources. One is called the SSSP (Student Support Services Program) and the other is student equity.
Every community college in the state, because of the support we got from the governor and the legislature, got an increased allocation for SSSP.
With student equity we also got funding that could be used to expand or hire more people to ultimately improve the success of our students. The funding is available, were in the process of identifying positions that we'd like to have funded and it's being reviewed at this point by the district.
About the Writer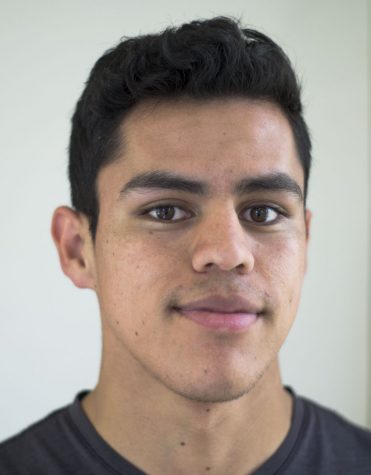 Cresencio Rodriguez, Editor-in-Chief
Cresencio Rodriguez-Delgado has led the Rampage for four semesters as the Editor in Chief. Cresencio joined the Rampage on January 12, 2014 and has reported...