Friends of the Arts' Kicks off Fall Arts Series, Hosts Broadway Night and Jazz Night
Fresno City College's Friends of the Arts hosted its Fall Art Series with Broadway Night on Oct. 8 and Jazz Night on Oct. 15, 2021 in the Old Administration Building west lawn courtyard.
Traditionally, Friends of the Arts held annual fundraiser dinners called "Toasting of the Arts." However, due to COVID-19, fundraisers were virtual last year. 
This year they returned to an in person event, but turned the fundraiser into a large outdoor two-day festival. 
Broadway Night was a salute to Broadway and Hollywood, with entertainment featuring FCC's Concert Band, vocal music from advanced and intermediate students and FCC's Opera Workshop.
According to Chris Lang, FCC theater technical director and president of Friends of the Arts, preparation began in June. 
Leading up to the events, FCC performing arts groups and professors incorporated the Broadway and Jazz themes into the classroom.
"That was really neat to have them take on class projects that would become this," Lang said.
Money raised at both events will go towards scholarships for students in the Theatre, Dance, Music, Communication and Fine Arts division. 
Lang expects the combination of Broadway and Jazz Night to outpace what was raised during the Toasting of the Arts virtual event last year.
FCC's Jazz Night, celebrated jazz instrumental and vocal musicians and included five musical performances from FCC's music department, an Art Space Gallery pop-up, food trucks, silent auction and children's storytelling area.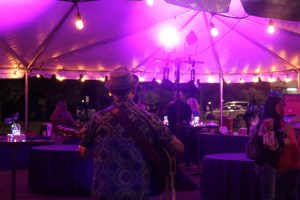 Julie Dana, director of voice and choral music, said it was the division dean who visualized the event before instructors knew whether ensembles would be able to perform live concerts on campus venues. 
Dana said practicing was a challenge because jazz and more traditional forms of music need time to capture the style correctly.
In addition, performing groups had to follow COVID-19 protocols during rehearsals. 
For example, the choir groups used singer masks, which pull the mask away from the face but still made singing difficult, according to Dana. 
Despite this, FCC music instructor Paul Lucckesi said it was wonderful to prepare music for live public performance since the last in-person event in March 2020.
"Live events are essential for student musicians and the community," he said. "Every concert is a once-in-a lifetime experience between the performers and audience."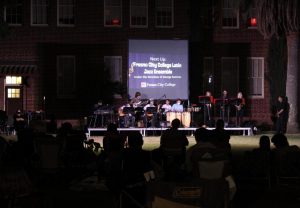 Miguel Mulliner, a FCC student who was part of the choir group for Jazz Night, also said it was exciting to be able to perform in front of people.  
"It feels good to be up there and nice to be able to show people what we have been working on and how it was whenever we were practicing," he said. 
Mulliner said the group worked hard but practice was nerve-wracking because they did not know if they were performing virtually or in-person. 
Upcoming events include a concert by FCC's Jazz Composers Orchestra, Oct. 25 in the FCC Theatre, and the Guitar and City Singer Ensembles joint concert on Nov. 17 in the Old Administration Building. 
Tickets for FCC's Jazz Composer Orchestra concert are available on Eventbrite.