Fresno City College Art Space Gallery's "Constellating Care Networks" Exhibition
Fresno City College's Art Space Gallery is preparing their latest exhibition titled "Constellating Care Network", which puts a spotlight on the history of Fresno's LGBTQ community from Sept. 2 through Oct. 8. 
"Constellating Care Network" is a sister exhibition of a bigger exhibition at California State University Fresno called, "No One Promise You Tomorrow: Art 50 years after Stonewall," which is being displayed from Aug. 19 until Oct. 31.
This traveling exhibition originally made its debut in 2019 at the Brooklyn Museum in order to commemorate the 50th anniversary of the Stonewall Uprising.
The Stonewall Uprising were protests against police oppression and violence towards the LGBTQ community at Stonewall Inn in New York City in 1969.
When the exhibition comes to Fresno State, it will be the same exhibition that would have been seen in Brooklyn, but with some modifications and adaptations to make Fresno's version, according to Elena Harvey Collins, the curator of "Constellating Care Network."
"Constellating Care Network" at FCC will highlight the history of Fresno's LGBTQ community. 
Cindy Urrutia, the director of Center for Creativity in the Arts and the curator of the "No One Promise You Tomorrow" at Fresno State, brought the idea to FCC with hopes of having an exhibition that relates to the LGBTQ community of Fresno. 
Collins, Katherine Fobear, assistant professor of women and gender studies at Fresno State and Carissa Garcia, an independent artist and community arts facilitator in Fresno, are the organizers of "Constellation Care Network."  
This will be the first exhibition of the semester. 
For the exhibition, the Art Space Gallery will hold pieces of local archives collections of Fresno's LGBTQ community which includes photos, posters, artwork, documentation, and historical materials that were given from LGBTQ organization's to display.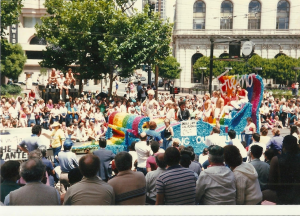 Some of the contributors are Imperial Dove Court, the oldest LGBTQ organization in Fresno, and the Bruise Violet Collective, which highlights LGBTQ bands.
Besides showing Fresno's history, the exhibition also puts an emphasis on how important care networks are for members of the LGBTQ community.
"The kinds of structure, support and care of chosen family that often have to be created by people of the LGBTQ community is an idea that really struck a chord with me," Collins said.
Collins hopes to get students and the public involved in the mapping project that showcases their own care networks that would be displayed at the Art Space Gallery. 
Anyone can get involved with the project. For more information visit the 2021 Constellating Care Networks page.
Collins said FCC's arts and theatre department, student aides and the Fine, Performing, and Communication Arts division have also helped tremendously with the planning of the exhibition.
Another on-campus organization that has gotten involved with the Art Space Gallery is the Allied Staff and Faculty Association. 
The ASFA was founded in January 2019 by Arien Reed, the current president and the co-founder, Connor Calaway, in order to create a space network and make the college more inclusive for LGBTQ students, staff and faculty.
ASFA got involved with the exhibition to support the LGBTQ community and help people resonate with Fresno's past with their own experiences. 
Reed hopes that with this event more LGBTQ voices are heard. 
"My hope is to draw in a lot of staff and faculty from the campus and spread awareness to really humanize LGBTQ people and to make people aware of our history and experiences today," he said. 
ASFA will also be at the Art Space Gallery on Sept. 10 at 5 p.m and hopes that more students will see that the association is there for them too, not just the staff and faculty.
ASFA will be holding LGBTQ safe base training in the Art Space Gallery in October, no date was given. The safe base training is a small training for people who have interest of wanting to be an ally towards the LGBTQ community 
According to Reed, the association is also planning to hold another training, but this time for trans allies in November for trans awareness week.
The "Constellating Care Network"  exhibition will also feature live performances from Fatty Cakes and the Puff Pastries, Eighteen Hundreds, and Drew Sands. 
Fresno Reel Pride,  a non-profit organization that is increasing awareness of the LGBTQ community through film, will also be hosting their film festival to show films for students.
Kathleen Arambula-Reyna, the festival director and board president of Fresno Reel Pride, said films shown will center around LGBTQ themes. 
On Sept. 10 there will be various movies LGBTQ films playing, while on Sept. 11 is when Reel Pride will have films for students premiering. 
All times and dates for the events will be on the 2021 Constellating Care Networks website and more information about Reel Pride 32 Kick-Off Party & Film can be found here. 
Collins also plans to schedule another exhibition this semester. The exhibition will be a collaboration between two artists and FCC's students.