Big Times Are Back at The Fresno Fair
Hang on for a minute...we're trying to find some more stories you might like.
The Big Fresno Fair welcomed back McCoy Hip-Hop, a dance group from McCoy Talent Gallery and its Kids Basic Karate, an anti-bullying program, on Oct. 6.
Run by siblings Ken and Deborah, the McCoy Talent Gallery provides a host of programs and classes for all ages and interests and has been performing at the Big Fresno Fair for more than 20 years.
"People come every year to see us," Deborah McCoy said. "So I have to bring a more advanced game, something more exciting, something people will look forward to."
Amongst the many performances at the fair, the Kids Basic Karate is something new to watch. Ken McCoy, director of the Kids Basic Karate, said this experience was " great and something different." He added that the group tries to teach "self control and self discipline."
Asia Smith, CEO of ASJ Productions is a member of the Kids Basic Karate and, though the course is aimed towards children, this experience was long overdue for Smith, "Martial Arts is something I have wanted to do ever since I was a child, and I finally got to do it infront of a crowd," she said.
Also performing in front of a crowd was recording artist Isaac Brown performed with the McCoy Hip-Hop. Brown, born and raised in Fresno, recently moved to Los Angeles in hopes to pursue his music career. He came back to perform his new single 'Falling For You."
"I love the Fresno fair," Brown said. "It was great to come back and show everyone what I have been working on."

About the Contributor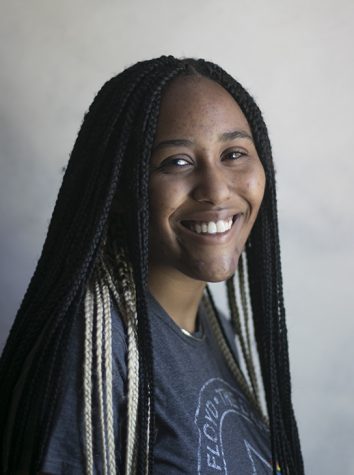 Toni Woodruff, Reporter
Toni Woodruff is a 19-year-old journalism and communications major at Fresno City College. She was born and raised in Fresno. She graduated from Edison High School in 2016 where she was involved in sports and leadership.
Amongst her many passions, Toni has found herself most at home when writing, especially poetry. She has competed in and won many local poetry slams and was given the opportunity to say an original piece at her graduation, baccalaureate and various Black Student Union events. Toni also spends a considerable amount of time writing short stories that often dismantle stereotypes and stigmas that she is faced with through playful and humorous but serious fiction.
Toni is in place to transfer from Fresno City College in the fall of 2020. She has hopes of going to either San Francisco State University or another university on the east coast. Toni will be going into the public relations field, she shows interest in crisis communications as well as social media management.
Over the years, Toni has had ideas and rudimentary plans on a television series she hopes to one day make come to life. She shows immense concern about the type of representation teens and young adults from all different identities are being exposed to and what stereotypes those media outlets might be pushing instead of challenging.