FCC Jazz Showcase Wows Audience
Hang on for a minute...we're trying to find some more stories you might like.
The Fresno City College Music Department put on a spectacular show showcasing jazz combos, jazz extensions, and a Latin Jazz Ensemble at the FCC Theatre on March 13.
Jazz combo director Larry Honda introduced the North combo which opened with a rendition of "Black Nile" by Wayne Shorter. This set a suave tone for the night. Notable standout was John Trujillo on the tenor sax, whose exquisite solos drew thundering applause from the crowd.
Next up was "Red Clay" by Freddie Hubbard performed by the East combo, followed by "Song for My Father" by Horace Silver, performed by the South Combo.
The West combo wrapped up the jazz combos with a rendition of "Gee, Baby Ain't I Good to You" by Andy Razaf and Don Redman. The song had a sultry tone, with trumpet player Jack Landseadel also providing vocals. Landseadel walked off stage mid-song, and dedicated the tune to his girlfriend who was in the audience.
While members of the West Combo played softly in the background, Landseadel got on his knee, and proposed; the audience erupted into applause and cheered when she said yes.
Next up was the Vocal Jazz Ensemble directed by Mike and Julie Dana which performed five songs.
The Jazz Extension came next, involving a group of 13 singers. They opened with Milton Delugg and Willie Stein's "Orange Colored Sky," with Zoey Turner leading the solo. Next up was Dori Cayimmi, Nelson Motta, Alan Bergman and Marilyn Bergman's "Like a Lover."
For the third song, the Jazz Extension group stepped down, leaving soloist Bernadette LaMontagne Schenck to sing  Louis Armstrong and Duke Ellington's "Do Nothin' Till You Hear From Me," a song she said was close to her heart since it was her audition song after high school.
The group rejoined Schenck for an acapella version of Marilyn Bergman, Alan Bergman, and Dave Grusin's "I'll be There" and concluded with "Nature Boy" by Ahbez.
The Latin Jazz Ensemble directed by George Ramirez was heavily influenced by Afro-Cuban jazz. They opened with "Dance of Denial" by Michael Philip Mossman, followed by David Torres' "Afro-Cuban Fantasy," and finally ending the night with "Bemsha Swing" by Denzil Best and Thelonius Monk.
The use of the congo drums and Ethan Foster's explosive solos on the timbales created a lively atmosphere.
FCC will host its annual CityJazz Festival on March 22-23, featuring trumpetist Gilbert Castellanos, and showcasing two full days of student jazz performances.

About the Photographer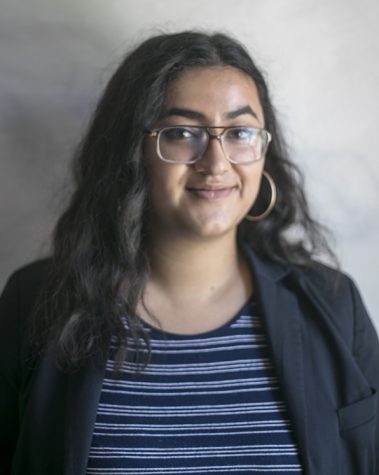 Paulina Rodriguez, Reporter
Paulina Rodríguez is a 21-year-old journalism major attending Fresno City College. She grew up in Chavinda, Michoacán, Mexico and immigrated to the United States when she was 9 years old. She is a queer woman of color, with interests in politics, art, public speaking, music, and poetry.
Paulina attended Sunnyside High where she was a member of the Video Production Academy. It was here where she was first introduced to reporting. This is Paulina's third semester at Fresno City, and first semester as News editor for the Rampage. She studied Molecular Biology and Physiology at CSU Long Beach for three years.
During her junior year of college, she discovered Maya Angelou, and a newfound passion for writing. Paulina aims to diversify her interests, by covering a wide array of topics throughout her time at The Rampage.
Her personal mantra is "I am a human being, nothing human can be alien to me." Paulina decided to pursue a degree in Journalism because she has an insatiable desire to understand the world around her. She plans to transfer to Fresno State to obtain her Bachelor's in Mass Communications and Journalism with an emphasis in multimedia.
Paulina's career aspirations are varied. Her regular attendance at concerts and music festivals has instilled in her a desire to combine her passion of music with journalism. She wants to dabble in radio, public relations, TV, and news. She is interested in learning to create her own content, and having a show of her own one day.
Paulina can be contacted a [email protected]