"The Little Mermaid" at Roger Rocka's Is Magical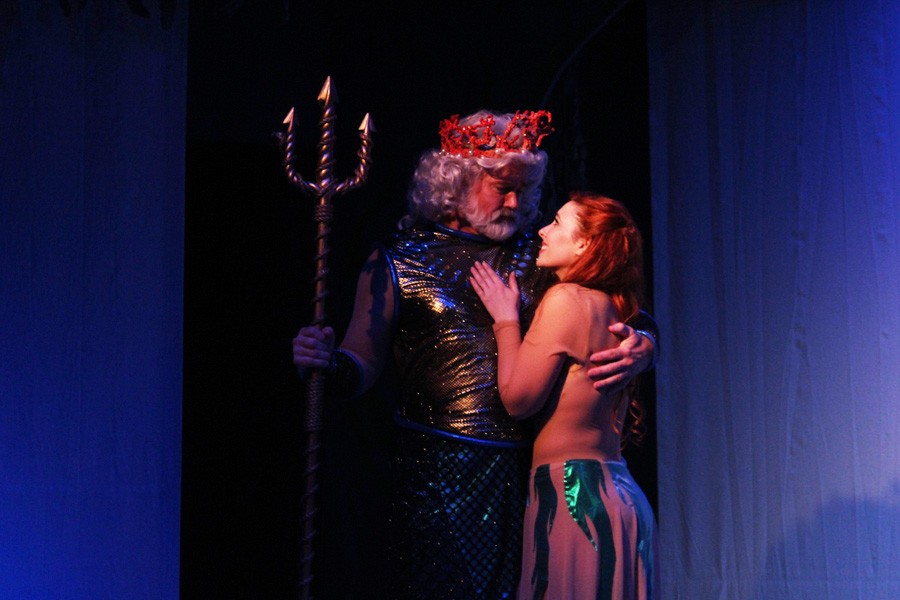 Story By: David Chavez, Managing Editor/Copy Chief
April 19, 2016
Get ready to immerse yourself in a world of dynamic dancing, sensational singing, adept acting and magical music as you take an excursion under the sea and down memory lane in Disney's "The Little Mermaid" (directed by Dan Pessano) which opened on March 17 and is will run
through May 15 at Roger Rocka's Dinner Theater in the Tower District.
The production brings to life the story of a young girl who is willing to risk everything and go against her father in order to explore the realm above the waters.
Good Company Players brings this unique theater experience and a show full of laughter, intrigue and fun, that is sure to keep you drawn in from beginning to end.
Based on the Hans Christian Andersen story and the Disney classic, the play features an amazing ensemble, colorful costumes and the combination of stunning visual effects, and a beautiful backdrop makes one feel as though they are really submerged in the ocean and breathing along with the residents of Atlantica.
The theater adaptation of the classic fairytale is fun for people of all ages and provides an opportunity to relive childhood memories and learn more of the backstory from familiar songs and  characters on the stage.
Good Company Players boasts an extremely talented group of actors. From Ariel to Scuttle, and Ursula to Sebastian, there is no letdown of energy and effort put into making sure the audience is guaranteed a sound performance is put on for the audience.
Emily Pessano does an amazing job of portraying Ariel, the teenage mermaid desperate to become part of the human world. Through her performance, she is able to convey that giddy curiosity and ambitious desire.
Camille Gaston who plays Scuttle provides plenty of humor as the seagull who is Ariel's connection to the outside world. With quirky jokes and made-up words, Gaston's character will have you laughing the whole night.
Brianne Janae Vogt plays the villain, the sea witch Ursula, whose role in the story is explained more in the theater adaptation than the movie. Ursula, aunt of Ariel and sister to King Triton, is both conniving and funny as she looks to reclaim from her brother what she claims to be hers.
Good Company Players' production of "The Little Mermaid" provides an exceptional chance for residents of Fresno to experience theater in a fun and exciting way. The costumes are elaborate and the cast and crew are rich in creativity; only a "poor unfortunate soul" would let this pass you by.
"The Little Mermaid" will run Thursday through Sunday until May 15 at Roger Rocka's Dinner Theater, located at 1226 N. Wishon at Olive. Tickets can be bought at the Box Office open Tuesday through Sunday, beginning at 10 a.m. or by calling (559) 266-9494 or online at www.rogerrockas.com
About the Contributor
David Chavez, Reporter
David Chavez is 25 and is in his sixth semester taking classes at Fresno City College. He is a journalism student and he plans to finish with a bachelor's...